OUR VALUES
COLUMN:

Birth Control: Is it OK to opt out on having children?

Posted on Fri, Jun 8, 2012 : 10:20 a.m.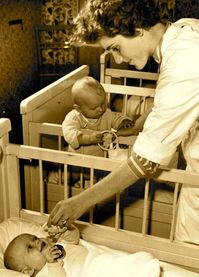 Editor's note: This post is part of a series by Dr. Baker on Our Values about core American values. This week Dr. Baker is discussing birth control in America.
The provision in the new healthcare law that mandates insurance coverage for contraception pushed birth control center stage. This week, we've discussed whether contraception is morally acceptable, how The Pill boosted women's earnings, what the real polarizing issues are, and where birth control ranks in top election issues.
Now, let's consider a question that lurks behind these issues: Is it acceptable for women to choose to not have children? Is the nostalgic ideal that everyone will become a parent — now fading in light of other choices men and women may make for their lives? Sex without conception is an outcome of birth control, and it enables women and men to decide whether to have children — at all.
About one in five women never bear children, according to statistics compiled by Pew. That's a big change from the 1970s, when one in ten women ended childbearing years without a birth.
The trend toward childlessness occurs among all backgrounds of American women with few exceptions. As a group, for example, women with the highest levels of education still are the mostly likely to be childless — much moreso than women with very little education. That's true even though, as a group, these most highly educated women are more likely to have children these days than they were in the early 1990s. (For this highest group, 23 percent were childless in the latest 2006-2008 reporting period, compared with 34 percent who were childless in 1992-1994.)
Overall, though, the trend is clear: Childlessness has become more acceptable in American society. A majority of American disagree that those without children "lead empty lives," according to other data compiled by Pew. But attitudes about childlessness are mixed. And, there's an active discussion out there on how we should interpret the decisions of women to not have children.
Do you agree that it's okay for women to not have children?
Is there a double standard for men and women?
What choices have you made?
Dr. Wayne E. Baker is a sociologist on the faculty of the University of Michigan Ross School of Business. Baker blogs daily at Our Values and can be reached at ourvaluesproject@gmail.com or on Facebook.