OUR VALUES
COLUMN:

Belief in God: Have Americans always believed in God?

Posted on Wed, May 23, 2012 : 11:59 a.m.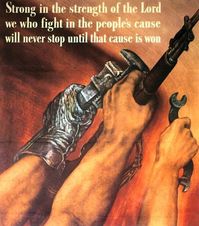 Editor's note: This post is part of a series by Dr. Baker on Our Values about core American values. This week Dr. Baker is discussing belief around the world, and where Americans stand in comparison.
Most Americans now believe in God, many without any doubt whatsoever.
But, have we always believed?
Surveys don't go back far in time, but they go back far enough to tell us something about trends here and around the world. The high percentage of Americans who are certain God exists has been pretty stable, going back at least to 1991, according to data from the International Social Survey Program.
There's been a shift away from certain belief in most places around the world, with big drops in Italy, Ireland and Northern Ireland. However, there have been some big gains in certain belief in God's existence, notably in Russia and Israel, based on Tom Smith's report.
Gallup has the longest time series of information on Americans' belief in God, dating back to the 1940s. In 1944, more than 90 percent of Americans said they personally believed in God. This percentage has been stable over time. In a Gallup survey just last year, 92 percent of Americans said they believe in God.
Gallup has changed over time the ways it asks about beliefs in God, which naturally affects the answers people give. The figures over 90 percent given above include those who are certain and those who have doubts.
What happens when you ask doubters to express their doubts? In 2006, Gallup asked respondents to qualify their beliefs in God. They could indicate these differences: convinced God exists, with little doubt God exists, God probably exists but with lots of doubt, God probably doesn't exist but unsure about it or convinced that God does not exist.
Even with all these qualifications, a high percentage (73 percent) said they were convinced God exists. Another 14 percent had only little doubts that God exists. Five percent had a lot of doubt. Only 3 percent said they were convinced that God does not exist.
Are you convinced that God exists?
Do you have doubts about God?
Why is America bucking the global trend toward disbelief?
Dr. Wayne E. Baker is a sociologist on the faculty of the University of Michigan Ross School of Business. Baker blogs daily at Our Values and can be reached at ourvaluesproject@gmail.com or on Facebook.