OUR VALUES
COLUMN:

A photo is worth: Everything old can be new again

Posted on Fri, Jul 27, 2012 : 11:55 a.m.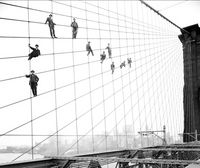 Editor's note: This post is part of a series by Dr. Baker on Our Values about core American values. Dr. Wayne Baker welcomes guest columnist Rodney Curtis, who usually writes at Spiritual Wanderer. Here is Rodney's fifth OurValues column, this week …
This week, pictures are telling the OurValues stories and I hope you'll use the comment area below to tell us about photos that have shaped your life. Today, I wanted you to see this photo, at right.
Photo 5: High Above New York
What's old often is new again. I'm always learning and seeing new things online.
When a bunch of Brooklyn Bridge painters decided to show off for Eugene de Salignac in 1914, they probably didn't think we'd be talking about them almost 100 years later. De Salignac never had any formal photo training, but was the official photographer for The Department of Bridges/Plant and Structures in New York City for almost 30 years.
Recently, The New Yorker published a group of old photos from the NYC Municipal Archives, and this one has become a new favorite of mine. The painters would give today's OSHA fits, supported as they were with no safety wires or nets. But they look as though they're arranged on a musical score, somehow representing an earlier, perhaps more innocent time.
Now it's your turn ...
What's your favorite old or classic image?
Tell us about one in the comment area, below ...
The San Diego-based Museum of Photographic Arts, founded in 1974, has established a Flickr stream for many early photographs, including the one I featured today by Eugene de Salignac.