The Garden Faerie
Home and Garden:

Ypsilanti Garden Walk showcases wide variety of gardening styles August 20

Posted on Fri, Aug 12, 2011 : 7:45 a.m.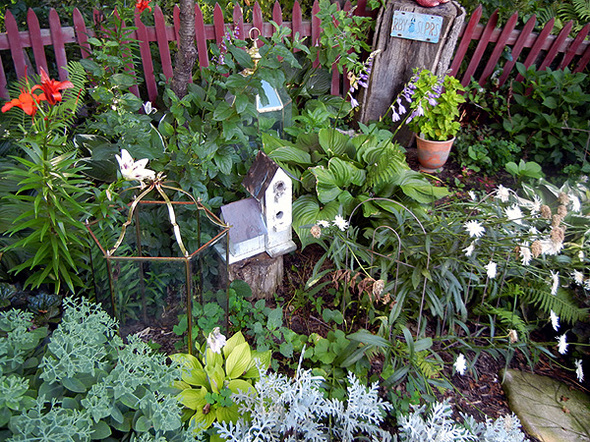 Photo courtesy the Ypsilanti Garden Club
The 2011 Ypsilanti Garden Walk is coming up on Saturday, Aug. 20, from noon to 5 p.m. Don't miss your chance to see six late-summer gardens.
The annual garden walk is sponsored by the Ypsilanti Garden Club and takes place each year during the Ypsilanti Heritage Festival.
This year's walk showcases six gardens, which visitors can tour in any order:
Water garden magic: An established garden with a mix of annuals and perennials, plus ponds, rivers and waterfalls.
Grandma's park: A park-like garden for adults and kids to enjoy. Plants grown through plant-sharing of divisions and extras.
Ypsilanti Senior Center and Rose Garden: These two gardens feature the scents of roses and lavender, spots for birds and butterflies, a shady area for hostas and sedum, and lily and perennial beds.
Cut flower garden: This garden is home to Good Scents Gardens and features more than 50 species of flowers grown for cutting.
Woodland secrets: A perennial garden tucked into the trees. Recycled items turn into garden art vignettes like Shady Ladies and Fairy Land.
Golf getaway: This garden takes inspiration from the golf course next door. It features a golf theme and many summer-blooming clematises.
The walk takes place on Saturday, Aug. 20, from 10 a.m. to 5 p.m., rain or shine (addresses are provided on the tickets). Tickets are $10 and available prior to the day of the tour at:



Salt City Antiques (115 W. Michigan Ave., Ypsilanti)


Norton's Flowers & Gifts (2900 Washtenaw, Ypsilanti and 2577 Jackson, Ann Arbor)


Jim MacDonald's Antiques & Apple Annie's Vintage Clothing (29 E. Cross, Ypsilanti)


Tickets are also available on the day of tour at Towner House (206 N. Huron, Ypsilanti) from 10 a.m. to 2 p.m., and at all tour locations starting at noon.
For more information, contact Sue at 734-485-0948 or sstickel@emich.edu or Chris at chrmgj@yahoo.com.