inside Washtenaw County Public Health
health:

Home toxics disposal: What's best when cleaning the nest?

Posted on Wed, Sep 12, 2012 : 9:33 a.m.

Every spring and fall we enter the storage areas for supplies we use seasonally. Pesticides, paint, fuel for grass cutting equipment and paint. Is everything still good? Do I need to buy new? What is this stuff? These are some of the questions we ask we approach this yearly task.
Check the label for further information. Read the fine print on the containers. If you are not sure get a box and collect all those containers.
The Washtenaw County Home Toxics Program will accept unusable household chemicals. Located at 705 N. Zeeb Road, the facility is open the first three Saturdays of the month from 9 a.m.-noon. You can call 734-222-6874 to schedule an appointment if you can't make the Saturday collection. There is no fee! However, donations are accepted.
To prevent the creation of this hazardous waste, make sure water-based paint and aerosols are stored indoors over the winter. Freezing can damage these water-based products. When storing two-cycle fuels, make sure they are stabilized so you don't have to pitch them in the spring, and the same goes for the snowblowers in the spring. Unusable gasoline/fuels can be very dangerous if improperly handled.
When you've purchased paint and still have a half can after you're finished painting, write the date last used, seal the lid as tightly as possible and turn the can upside down. This prevents air from drying out the paint, and you'll know how old it is the next time you're searching for paint to do a touch up.
Lawn care products such as fertilizers, herbicides and insecticides are not damaged by the thaw freeze cycle. Even if the granular products are wetted and solidified, they are still usable. Take necessary precaution and protect yourself when busting up those clumps of fertilizers though.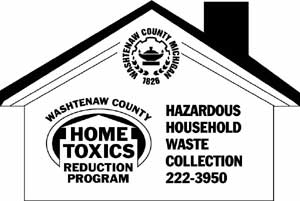 Most importantly if you are not sure what is stored in that old milk jug, bring it in to the collection at
Home Toxics Reduction Programs
facility.
Please label the containers if they are not in their original container.
Storing these materials is potentially hazardous. These hazards can be accidentally ignited, and children can get curious or pets can accidentally consume poisons. When cleaning the nest this spring, makes sure everything is put in its proper place.
To find out what to do with those hard-to-dispose-of items like televisions, tires and furniture, visit recycle.ewashtenaw.org for information on upcoming clean up days and agencies accepting unwanted items on the Turning Trash to Treasure guide. Be proactive and keep your storage areas clean and safe!
Jeff Krcmarik is a Environmental Health Supervisor. His can be reached at 734-222-6865.