ON THE HOUSE
HOME & GARDEN:

8 tips on how to stage and sell your home faster

Posted on Fri, Apr 29, 2011 : 9:57 a.m.
Hi Keith,
I just got a new job that is out of state, which means I have to sell my home fast. If I do not sell within the next 30 days, my house will sit vacant. Any suggestions how to help sell it quicker, and do houses sell faster if they are completely empty or should I leave some of my furniture in it?
— Bethany R., Ann Arbor
You have approximately three to four minutes to wow a potential buyer.
I like to think of it as a business. Your house must give potential buyers every reason to think that they would be absolutely crazy to purchase anyone else's home besides yours.
In other words, differentiating your house from the similar homes for sale is a must if you want to sell your home quickly with the maximum return you can get in today's market.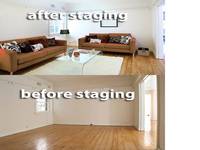 photo by: signaturestaging.com
I've been receiving positive comments from friends in the Ann Arbor real estate market, and spring is a great time to sell. So, let's capitalize on this and focus on your home's key points and what makes it more desirable for buyers. Below are a just few tips to help your home sell faster and for more money.
1. A vacant and empty house sells slower than one with furnishings, according to Realtor.com. You must give the buyer a picture of what the house will look like with them in it. A house with vacant walls is very impersonal, which possibly could leave buyers looking for another place.
2. According to Annie Dodge, co-owner of A2 Home Staging Consultants in Ann Arbor, a professional home staging company, taking your personal touches out of the home will also help it sell quicker. Remember, it is about the buyer, not you. Much to my surprise, by disassociating yourself with the home, buyers will be able to better envision themselves living there. "Think of your home like a product", Dodge explains, "You should remove pictures of your family reunion and graduation picture of your oldest niece in order for the buyer to visualize it being their home.
3. Create space in the house. One tip: Remove two-thirds of all your books from shelves. The abundance of space, not the lack of it, is important to the buyer.
4. A clean and clutter-free house is very important. One step my wife and I have learned in our 10 years of real estate investing is to ensure our properties are clean, clean, clean. Our buyers and tenants told us that cleanliness is the reason they decided to pursue this property when compared to other similar ones.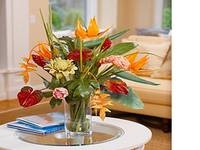 photo by: cpointenc.wordpress.com
5. Realistic silk flowers are a nice touch to help any home stand out from the competition. Real flowers can get messy, especially if you're out of town. Staging your home with flowers can help bring back the color and "homey" feel, especially when your walls are natural paint colors, which is the best colors when selling your home.
6. Ensure your lighting fixtures are up-to-date to create ambiance. Make certain all the light bulbs are working and replace any burned-out ones before a showing.
7. Locate the focal point of each room and build your furniture around it. This leverages what you already have, so look through the buyer's eyes.
8. Consult an expert. As with most projects that involve expertise, hire a professional. Many professional interior home designers and home-staging companies will consult with you on how to arrange the furniture. They can also supply you with staging furniture and accessories when needed and show you how to create focal points for the key selling features of your home. I spoke to many sellers who didn't want to pay the $150 to $300 it would cost to hire a professional staging company. As a result, their house remained unsold for longer periods of time. My question was "How much did they really save when their home remains unsold?"
Paul is a State of Michigan Licensed Builder. Paul serves as president and founding member of nationally franchised HandyPro Handyman Service, servicing Washtenaw, Wayne and Oakland counties. www.handypro.com. Listen to Paul every Saturday at 11 a.m. on "It's Your Home, Let's Talk About It" WAAM Talk 1600AM. Email questions or comments to kpaul@handypro.com.