home & garden:

Reuse and recycle - do-it-yourself style

Posted on Wed, Feb 10, 2010 : 3 p.m.
So we all know the mantra of the green movement: Reduce, reuse and recycle.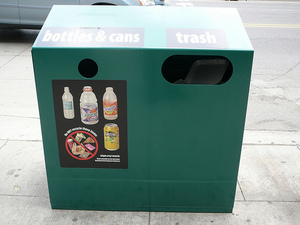 Seemingly everywhere are green containers that are designed for recycling products, and many people have green tubs in their garages for sorting recyclable materials.



But what if 'reusing' and 'recycling' meant something different that allowed you to save money (instead of costing more, which is a known side effect of recycling) and gave you a new product at the same time?


We purchased a fireplace blower a few years ago to make good use of the large, brick fireplace our home has. Knowing that our fireplace had gas and we wanted to burn wood in it to save on the gas bill, we took out the gas plumbing (a feat in and of itself) and installed a cast-iron unit that takes in room air, circulates it around the burning wood in the fireplace and shoots warmed air back to the room. As efficiency goes, it's not nearly as good as a wood-burning stove or insert, but it also ran us about $500, not $2500. So we make it work.

But in our quest to make starting fires that much easier, we bought fire-starters in a box from Lowe's.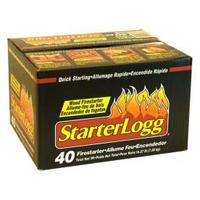 No problem - they are made from sawdust and oil, sometimes using paraffin as the "easy to burn" component. I was satisfied with this until I did the math and realized that, although these are convenient, they are expensive. And so I began my quest to make my own fire-starters.
I have a friend who moonlights as a wood-worker, and I thought about collecting sawdust from his workshop - but what to bind it with? I discarded that idea just from a mess-containment perspective, although it would be interesting to attempt. One day, as I was cleaning out the lint from the dryer-screen, it hit me: Dryer lint is famously flammable, evidenced by the fires that can occur from not cleaning out one's ducts and hoses on the dryer.
I was still left with the question of a binding-agent that was flammable and wouldn't mar the inside of the fireplace badly, smell awful or put nasty things in the air as it was burning. Paraffin was okay, but I'd prefer something that I had already used and didn't have to buy specifically for this purpose. I'm big on getting more than one use out of a product - our milk becomes kefir or yogurt, and we skim the cream off of it for our coffee, etc. This is just the way I roll.
And so when I used coconut oil for a Japanese meal and had it left over, I figured it couldn't hurt to try burning it. Coconut oil is a naturally saturated fat that we love here; its health benefits are incomparable, and because it hardens naturally at temperatures below 76 degrees Fahrenheit, disposing of leftover (used) oil means we need to throw it away. When I tried burning it in the fireplace, it was perfect. And here's the beauty of it: It burns cleanly, evenly, without smoking and leaves no residue that I have to contend with or clean up.
So I had two components: something to burn (lint) and something to allow it to burn longer and catch more quickly (used coconut oil). I chose to try toilet paper rolls as the object to hold the oiled-lint and found that it worked well.
Now when we need fire-starters, I have a store of dryer-lint and I put aside coconut oil after it's been used. I don't fry food often, and when we don't generate enough used coconut oil, I've found that saved bacon grease also works, except that it makes us crave bacon as the fire gets going.

The technique I use is to soak the lint in slightly warmed oil (to liquefy the saturated fat), stuff the lint in a toilet paper roll (somewhat tightly), and then chill the final product. Once the oil has re-solidified, we cut the rolls in thirds and bag them up for use in the fireplace. One fire-starter per fire is about all we need. And if I ever run out of toilet paper rolls (unlikely, but still…), cardboard egg cartons can be used in the same method; the final product is one egg-holder-space per fire.
A friend of mine teases me a little about always finding more than one use for stuff in my world. I'm okay with the teasing - because it means that the stuff in my world serves me & my family and not vice-versa. It's the ultimate in recycling for us - and then it's all reduced to ash in our fireplace, the ashes go out to nourish the garden soil and make better vegetables for us to eat. It's all good.

Sue is a photographer and free-lance writer/editor. She is known for being a DIY-nut and looks for ways to care for her family while spending less to do it. You can reach her via e-mail and read her regular ramblings at A Mother's Heart.
Photo credit: JPWBees