ON THE HOUSE
HOME & GARDEN:

Proper bathroom ventilation is key with the right exhaust fan

Posted on Fri, Jul 6, 2012 : 2 p.m.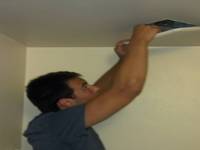 Hi Keith,
I have a small bathroom with a shower. After my family takes a shower, our bathroom is very humid and water is actually running down the walls. I was told that putting in a bathroom fan would help with the condensation. If so, what type of fan is the best?
Thank you,
—Ray S., Ann Arbor
Hi Ray,
The main purpose of the bathroom exhaust vent fan is to create air circulation and remove moisture. Otherwise, without removing bathroom moisture, it allows ideal conditions to exist for mold and deterioration of your walls and ceilings. A window alone cannot accomplish this, especially in the cold winter months in Michigan.
Installing a bathroom fan will not only help with the removal of moisture and odors but can add other values to your bathroom. Various models include other benefits, such as wall mounts, heat lamps, ultra silent (low noise) operation, as well as decorative and timed lighting.
As with most home improvement products, selecting the right unit for your needs is key. Bathroom vent fans are rated and measured by the size of your room and the amount of air which can be moved within a certain time frame, known as cubic feet per minute, or CFM. The larger the room, the larger the CFM rating needed. Therefore, a vent rated at 50 CFM fan will remove 50 cubic feet of air per minute.
According to the Home Ventilating Institute, for bathrooms up to 100 square feet in area, HVI recommends that an exhaust fan provide 1 CFM per square foot (approximately eight air changes per hour) to properly ventilate the bathroom.
Other additional features include lights, remote control, humidity sensing and Energy Star rating.
Handyman tip: Be sure to vent the moisture to the outside of your home. I've seen many bathroom fans vented into the attic. What happens to the moisture? It's stays in the attic, attaches to the rafters and creates an ideal condition which allows mold to grow and create a major health hazard.
Lastly, it is recommended to keep the fan on at least 20 minutes after a shower.
Stay dry, smell fresh and enjoy.
Paul is a State of Michigan Licensed Builder and a Certified Aging in Place Specialist. Paul serves as President and founding member of Nationally franchised HandyPro Handyman Service, servicing Washtenaw, Wayne and Oakland Counties. www.handypro.com. Email questions or comments to kpaul@handypro.com