Notes from the 20 Minute Garden
Recipe:

My aunt's refrigerator pickles - and a spicier variation

Posted on Tue, Aug 16, 2011 : 6 a.m.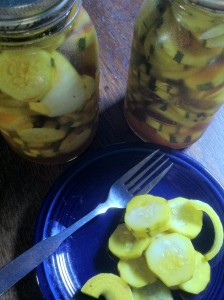 Jim Leach | Contributor

My mom's side of the family comes from Michigan's Thumb region which is known for its growth and manufacture of pickles and relish. Many of my cousins worked at "The Pickle Factory" for their summer jobs, and most of my aunts had a personal variation on a pickle recipe or two.

This recipe is one that Jan and I received on a 3x5 card when we were married coming up on three decades ago. It was hand-typed but unsigned, so I can't give proper credit. I'm also including the variation I tried this year that uses less sugar but a bit more spice for a hotter, more tart pickle.
Refrigerator Sweet Pickles

Ingredients:

4 cups vinegar
1/2 cup kosher salt
4 cups sugar
1 teaspoon turmeric
1 teaspoon mustard seed
1 teaspoon celery seed
5 onions, sliced
Cucumbers - about 9 medium, sliced


Method:
Put all ingredients, except onions and cucumber, in a pot and bring to a boil. Let cool. Put sliced onions and cucumbers in glass jars and pour cooled mixture over them. Store in refrigerator.
20 Minute Jim's Hot and Sour Pickles

4 cups apple cider vinegar
1/3 cup Kosher salt
1 cup brown sugar
1 tablespoon turmeric
1 tablespoon celery seed
1 tablespoon mustard seed
1 tablespoon hot pepper flakes
3 large white onions, quartered and sliced
10 cucumbers, seven inches long


Method:
Follow the same process as above. Makes three quarts. Store in the refrigerator.

Refrigerator pickles are great for beginners because they are fast and easy. We get the pleasure of a pickle without all the fuss and steam of canning — although we are big fans of canning our bounty too. What's your favorite pickle: spicy, sweet or sour?
Janice and Jim Leach have been gardening together for close to 30 years. They tend a backyard plot in downtown Ann Arbor, where they try to grow as many vegetables and other plants as possible. For the last four years, they've published gardening tips, photos and stories at their 20 Minute Garden website.