ON THE HOUSE
home & garden:

Diagnosing the cause is the key to maintaining a dry basement

Posted on Fri, May 27, 2011 : 8 p.m.
Hi Keith,
I enjoyed your article for AnnArbor.com from Thursday, May 12, on curing leaky cement basement walls. I have used Drylock on the block walls of our cottage basement and almost got it completely dry. I still have one problem, however, and that is water seeps in through cracks in the basement floor. Have you done an article on that problem? The big problem I see with repairing/sealing it is that the cracks are so tight and nothing would go into them.
Any ideas you have would be appreciated.
—Richard B.m Ann Arbor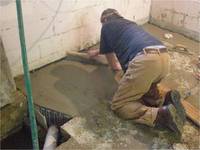 Photo by: Joel Ambrose - Drain Tile Repair
Hi Richard,

Thank you for your kind words. Water has been a huge topic here in Michigan this spring.

Basements typically flood due to one of two reasons:
1. Foundation back fill. Much of the earth around the basement walls are removed during construction and then refilled around the basement walls after completion. Although the soil is tightly packed, it's nowhere near as compact as it was prior to excavation, causing water to find the path of least resistance after rain or snow.
2. Hydrostatic pressure. This is simply how the force of gravity pulls down on water. In other words, if you're in a high water table and your basement is lower than it, water will find its way through cracks and crevices to balance the pressure. It is very difficult, without a professional waterproofing company, to seal the cracks completely with any type of caulk or sealant because of the hydrostatic pressure that can push water though the smallest of hairline cracks.
As the previous article stated, be sure to check the grade around your home and ensure it is sloping away from the home at a minimum of one inch per foot. Then verify the downspouts are directing the water away from the basement walls.
Having water seep through the wall and floor intersection can be caused by a number of issues and takes some time and investigation. A couple questions would need to be answered to determine the course of action. Do you have a sump pump and drain tile? How much area is water leaking into your basement? Do you have a high water table?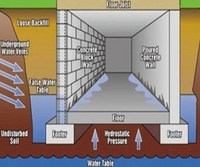 Photo by: Atlantiswaterproofing.com

Check your drainage system (also known as drain tile and sump pump). The drainage system's main purpose is to divert water away from the home. The drain tile is typically a three- or four-inch plastic perforated pipe which has a thin protective sleeve around it allowing water in and keeping the rocks and dirt out. They are designed to catch water draining down the exterior walls or underneath the floor, and then to drain into the sump pump to be pumped out and away from your home.
If you have drain tiles, the most common cause of seepage is due to them being clogged from dirt or sand over the years, or they might be damaged. Rent a power snake from your local rental store and run through the piping to ensure clear and proper drainage.
Or call a professional plumber or waterproofing company that is familiar with basement leaks, and ask them to inspect it for you. The company should let you know if your lines are clear and working properly. If the lines have a blockage, it is possible the tile has collapsed and will need to be replaced.
If you do not have drain tile, it is best to call a minimum of three waterproofing companies to assess the issue. As always, be sure to get all work, warrantees and guarantees in writing.
Paul is a State of Michigan Licensed Builder. Paul serves as President and founding member of Nationally franchised HandyPro Handyman Service, serving Washtenaw, Wayne and Oakland Counties. Listen to Paul every Saturday at 11 a.m. on "It's Your Home, Let's Talk About It" WAAM Talk 1600AM. Email questions or comments to kpaul@handypro.com.