Marcia Lyon's Creating Spaces
Lake house is complete with master suite addition
Posted on Thu, Nov 18, 2010 : 7:44 a.m.
Many people are downsizing due to the economy or lifestyle changes, and sometimes both. Also, the philosophy has changed from "bigger is better" to manageable style with great details. Whatever the reason for downsizing, we still want certain creature comforts we are used to.
PROBLEM
This vibrant, active couple had raised their children and wanted a smaller, more manageable house. They found their ideal home right on a lake, which offered serine views from most of the windows. The lower level was a walk-out basement, also with spectacular views. Downstairs they had additional living space and two more bedrooms.
They spent time adjusting their lifestyle to the spaces within the house and determined that the master bedroom (A), especially the master bath (B), were simply too confining. They liked living on one level, so they determined an addition was needed for their new bedroom.
There was a magnificent mature tree (C) in the spot they thought was the only place to build, and they anguished over destroying it. They were at a loss and needed help.
SOLUTION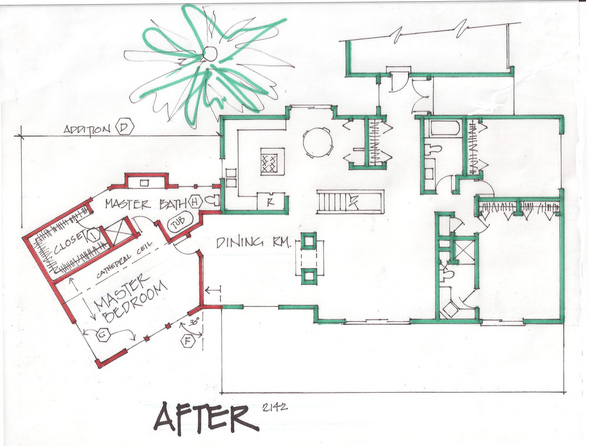 After walking the property with them, I found the perfect spot for the addition (D) (see the After drawing). I chose this spot to capitalize on the view, and also to extend the dining room. This room was already quite small, but since I was introducing traffic into this space, it all made sense.
The tree (C) became a non-issue, plus a bedroom back there would be deprived of lake views.
The 30-degree angle (F) worked well, providing two lake views (G) for the bedroom. Since the main part of the house has a cathedral ceiling, we continued that style into the master bedroom. The ridge line of the roof continues, but at an angle.
The master bath (H), although not huge, feels spacious with all elements spread out. The windows pull in light and offer views of a future flower garden.
The homeowners chose not to have two sinks. I wholeheartedly agree — if you are not getting ready at the same time, why buy two sinks and clean two sinks? A single, beautiful sink will suffice. We bumped it out in its own recess. We provided space for a soaking tub and a standard size shower. The closet (I) is more than ample.
This addition adds interest to the house. Placing the master bedroom suite on this end provides privacy for guests or for the next owners to have some space from the children's bedrooms.