On the House
Home & Garden:

Don't cut corners on difficult molding cuts

Posted on Fri, Sep 23, 2011 : 6 a.m.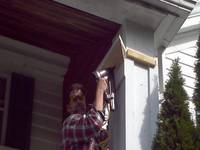 photo by: Nick Paul
Hi Keith:
I am installing crown molding in my home. Although I have a compound miter saw, I've never used it to cut this type of molding. I am in the middle of the project and having a difficult time matching the outside corners. What can I use to make an accurate corner cut?
— John C. Ann Arbor
Hi John:
By adding crown molding in any room, it can make a significant difference. It is a way to add class, personality and value to any room in a home.
However, unlike base or door molding, crown can be a little more challenging to install due to the variety of angles involved in cutting the material. To make matters worse, I have never seen a true 90-degree angle on any of the intersecting walls in any home.
There are many ways to precisely cut outside corners of crown molding, but I'll share the one process which works for me. I recently used this process on a five-and-a-quarter-inch exterior crown molding for 12-foot porch columns.
This may appear to be a unique process, but it works. Using your miter saw, turn the base to 31.6 degrees. Next turn the blade to a 34-degree angle. That's it. Although, mathematically, it doesn't appear to make sense, it does make an outside 90 degree crown cut.
Lay your crown flat on the saw. Next, ensure that you cut the molding in the right direction. Are you cutting with the molding facing up or down?
Tip: Use a scrap piece of crown for a template, and on the back of the crown, mark the top when cutting the outside corner. The top is always the longest length with outside corners compared to the bottom.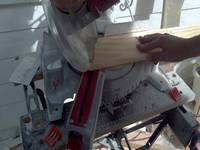 photo by: Nick Paul
The angles may have to be slightly adjusted because of the aforementioned issue with 90-degree walls.
If you are using painted crown, as compared to stained, use caulk to fill in any gaps between the crown, wall and ceiling. If the gaps are larger than a quarter inch, you may have to scribe, or cut the top of the crown for a tighter fit.
Although crown molding takes a little time and patience, the rewards of the your hard work will be gratifying for years to come. Enjoy the new addition to your home with a professional looking installation.
Paul is a State of Michigan Licensed Builder. Paul serves as President and founding member of Nationally franchised HandyPro Handyman Service, servicing Washtenaw, Wayne and Oakland Counties. www.handypro.com. Listen to Paul every Saturday at 11 a.m. on "It's Your Business, Make It Happen" WAAM Talk 1600AM. Email questions or comments to kpaul@handypro.com.