Marcia Lyon's Creating Spaces
Determine and create the kind of spaces you want
Posted on Thu, Dec 9, 2010 : 8:14 a.m.
When you are contemplating an addition, you really need to think: "What do I want to end up with?"
Yes, we all could use more space, but space without purpose is expensive and wasteful. Each room should have a function and not be potential "junk rooms" or "walk-through rooms."
PROBLEM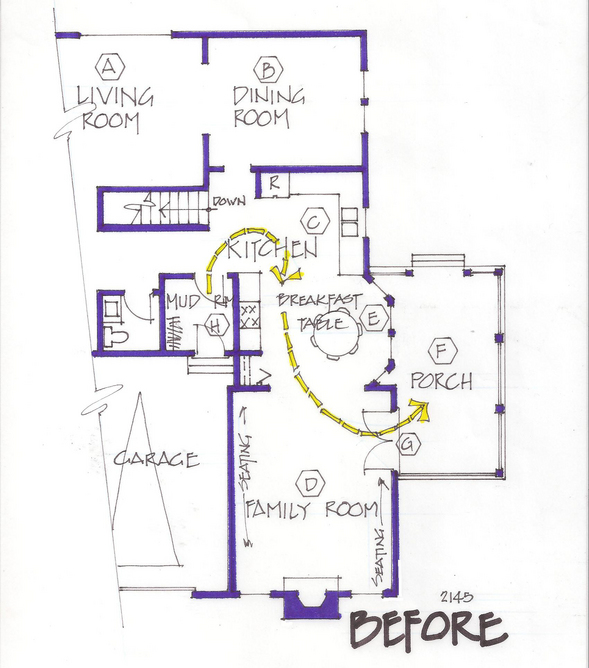 This family didn't like much of the public space in their home. The living room (A) and dining room (B) were formal and not very comfortable. Even though they didn't use those rooms, they felt they were "required" rooms. Most of their "living" was done in their kitchen (C) and family room (D).

The problem with the kitchen was that it was actually too spread out. The range was about nine feet away from the sink, and the pantry was almost 13 feet away from the refrigerator.

The breakfast table (E), or daily dining area, floated near the bay window.

A charming covered porch (F) was off the side of the house and was accessed through French doors (G) off the family room.

Because of the openness and position of the family room (D), seating was relegated to the outside walls. The very symmetrical position of the fireplace really didn't provide a good place for the television.

When I asked the homeowners what they really wanted, they formed their concept to have a media room that could be closed off from the kitchen cooking smells, noise and traffic. They didn't want to give up either the formal living or dining rooms (A & B) to get this room. The porch was a favorite space, so they asked that we not get rid of it.
SOLUTION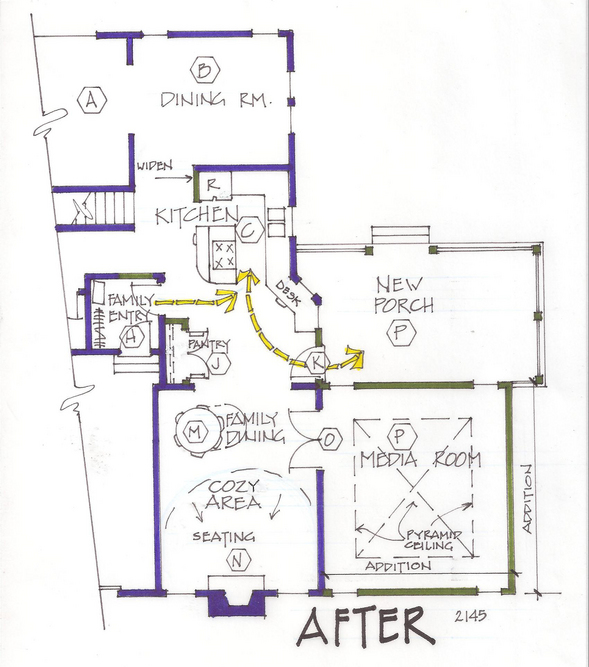 We made several subtle changes in the house, plus we built an addition. First, from a traffic standpoint, we changed the doors in the family entry (H). The opening between the kitchen and dining room (B) was widened and two windows were added.
We made the kitchen more compact and efficient by adding an island with a cook top in it. The counter extends for a family computer desk (I). A closet style pantry (J) was added, with storage on the doors and a door-activated light switch so everything can be seen at once.

A single glass door (K) was added to access a new, larger porch (L). Now people can go right outside from the kitchen.

The family room (D) changed purpose. Now it is used for an expandable family dining table (M) and an area (N) for cozy seating round the fireplace.

The French doors (O) are used to access the new media room (P). This room is insulated on all sides, top and bottom. The ceiling has a raised pyramid ceiling. Four small windows (square) have sliding interior shutters that block out light. The new room is ideal for furniture arrangement and sound containment.