ON THE HOUSE
HOME & GARDEN:

What to do when your asphalt driveway is breaking up

Posted on Fri, Oct 7, 2011 : 6 a.m.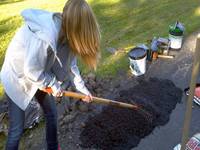 Photo by: Nicholas Paul
Hi Keith, I have more than just a crack in my asphalt driveway. There is an indentation that is approximately two feet by two feet. The cracks are starting to separate, and the pieces of the driveway are coming loose. The driveway is about 10 years old, and this is the only place where we are having trouble. Is this a do-it-yourselfer project? What steps would I take to repair it?

—Jackie R. Ypsilanti.
Hi Jackie,
Over the years, Mother Nature can wreak havoc on our asphalt driveways. A small crack can become a major problem with the expansion and contraction of snow and ice. This, of course, is why the cracks continue to grow. By fixing the problem now, could save you thousands of dollars in the future.
On a do-it-yourself scale from one to five, I would give this a 2.5. Even my 13-year-old daughter had fun on a project similar to yours, (see photo at the top).
The good news is that there are asphalt repair products available at most home improvement centers which can help you. According to my daughter, the toughest part of this project was lifting the 50-pound bags of asphalt.
Begin the project by picking up supplies. You'll need gloves, a utility knife, a shovel, a tamper, two to three bags of asphalt repair, a powerful leaf blower (or power washer), asphalt cleaner, a 4x8-foot sheet of plywood and a garden rake.
First, remove any loose debris and loose pieces of asphalt. Chances are you will find a row or two of cracked and loose pieces of asphalt — remove them also. The more stable the patch, the less likely to repeat this repair next season. Note: It is important that the asphalt repair have a solid edge of one inch minimum in order to bond. This type of asphalt product will not work to cover over existing asphalt but is used to fill a hole only.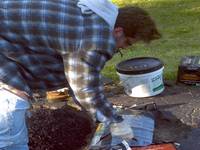 Photo by: Nicholas Paul
To clean any remaining debris, power wash or use a leaf blower and apply asphalt cleaner to wash the surrounding area for increased adhesion. Carefully cut open the bags of asphalt and pour over the area to be repaired. There should be enough asphalt to be approximately half an inch to one inch higher than the current driveway. This will settle as it is compacted.
At this point, the asphalt will be somewhat pliable. Compress the area with the tamper. Add more asphalt as needed.
Next, position the plywood over the entire area and drive your vehicle over a few times for compaction. Repeat as necessary. After the repair has set for approximately seven to 10 days, seal the repair with asphalt sealer.
By repairing the damaged area, it will not only increase the aesthetics of the driveway but will greatly extend the life of it as well. Enjoy, and safe driving.
Paul is a State of Michigan Licensed Builder. Paul serves as President and founding member of Nationally franchised HandyPro Handyman Service, servicing Washtenaw, Wayne and Oakland Counties. www.handypro.com. Listen to Paul every Saturday at 11 a.m. on "It's Your Business, Make It Happen" WAAM Talk 1600AM. Email questions or comments to kpaul@handypro.com.