ask betty
home & garden:

Ask Betty: The cost of living clutter-free - is it worth the occasional regret?

Posted on Mon, May 2, 2011 : 10 a.m.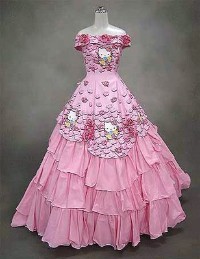 just the ticket for the school play
Saturday you donate the ugly pink bridesmaid dress you wore at your best friend's wedding. The following Monday, your daughter scores a part in the school play and needs a costume, preferably pink and hideous.
You finally give away your set of Noritake dishes, only to find them selling like hotcakes on Ebay.
In March I blogged on the costs of valuing stuff over space. But when you value space over stuff, it's bound to happen from time to time: you regret having parted with something.
The question is, how much are you willing to pay for the benefits of the method you choose? And where do you lie in the continuum?
Because we think ahead, we store items, knowing or at least guessing that we'll use them in the future. Pantries are stocked with canned goods, jars of sauce, pasta we got on sale, etc. Freezers hold extra meat, frozen cookie dough, bread and juice.
There's a balance between having so little that you need to shop daily, and being so overstocked you can't get down the hall. Somewhere between the extremes is the feeling of being comfortably prepared.
It's an individually determined state on the continuum, but it implies confidence in the outside world. You trust that if you need something, you can always go out and get it.
When we hear there's a blizzard coming, we temporarily lose trust in our ability to get what we need "out there," so we stockpile batteries, water and food. It might crowd us in the house, but it's okay because we feel safe and prepared, and we know it's only for the short term.
The storm passes, we use up the extras and go back to trusting that we can get what we need out in the world.
The mantra of the hoarder is: "I might need that someday," while the space cadet says, "I probably won't ever need that, but if I do, I can always find it again, and if not, it's not the apocalypse. "
If you've ever seen Hoarding: Buried Alive, you've seen people with way too much stuff for their spaces. The opposite extreme is rare in the U.S., but check out this piece about a woman who lives in a 90-square-foot apartment in New York. She keeps only what she needs, including flatware pared down to one knife, one spoon, one fork.
As you come in to the middle from these extremes, it becomes less clear. We each have a point at which the clutter starts to bother us, and that's an individual variation. Day after day, as stuff builds up, irritation rises.
Conflicts erupt in families and in couples over differences in comfort levels. When we have similar approaches to clutter, we can easily compromise. But what if you can't stand one dirty plate in the sink, while your partner, after throwing a party, is content to leave the mess for days?
You're a Felix, and she's an Oscar. How do you find a balance?
I'd love to hear from people who live with that conflict as well as those who have found solutions. Send a comment (below) or email me!