ask betty
home & garden:

"Weed" your house as you do your garden to restore original beauty and sense of order

Posted on Mon, Jul 2, 2012 : 12:07 p.m.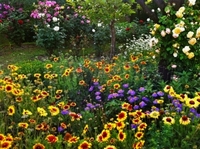 Photo from sxc.hu.com

Patricia, the lady from whom we bought our house, was a gifted gardener and, lucky for us, planted many lovely perennials. She became ill, though, couldn't keep up with the yard, and finally moved into an apartment. After we settled in, I had time to get out there and weed. Neighbors we hadn't yet met would drive by and wave approvingly, some commenting on my beautiful garden. I felt guilty thanking them, as I had done nothing to make it nice, other than to unshroud the beauty that was already there.

As most gardeners know, working in a garden is a never-ending process. While there are moments of appreciation — weeks, sometimes — when all that's needed is water and gratitude, one thing nature doesn't do is stay the same. It changes constantly, and a gardener's joy stems (pardon the pun) from the process of working with soil, nurturing the plants.

When I plan a party or have company coming, my process begins the same way indoors as it does outside. I "weed" the house. I get rid of trash and move clutter to its proper place. A little dusting and wiping down and — voila! The house is ready to rock! Well, roll, at least.

This relies on having it set up well to start with — just as Patricia designed a lovely landscape, and my role since has been to keep everything else out. A little mulching now and then, some annuals, and I'm good to go.

Sometimes we ask our clients, "When was the last time your home was the way you wanted it?" For many the answer is, "Shortly after we moved in. We unpacked and set up the furniture, hung the pictures and put out our favorite tchotchkes. We had a housewarming party, and that was the day it looked its best."

So what happened after that? Stuff! Just like weeds, stuff keeps coming in, if we let it — and most of us do. And, let's face it, some stuff is good, and we want to keep it. If we can find room for it, great. But ultimately, even if we want to keep it, if we have no space for it, we have two choices:

1. Get rid of it anyway, or

2. Get rid of something else you want to keep LESS, thus making room.

Same thing in the garden. Too many plants — even if they're all beautiful — showcase nothing and choke everything. If you have room elsewhere in your yard, transplant some things to another spot. No room to spare? Give extras to your neighbors.

Lest I start sounding like Chance from "Being There," I will leave my garden analogy for the nonce.

For some people, the answer to the question I posed earlier, "When was your house the way you really wanted it?" the answer is, "Never!" You moved in, unpacked and never really had your home the way you wanted it.

I will get to the root of this (oops!) in another blog, but I could use some help. What happened? Did you ever hang up pictures? Or did it go from moving chaos to lived-in chaos? What do you wish your home felt like?

Let me know!