Daily dose of Health News:

Aspirin might help breast cancer survivors cut risk of recurrence

Posted on Wed, Feb 17, 2010 : 10:47 a.m.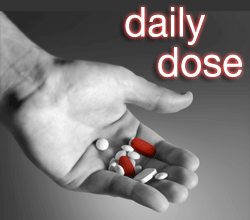 Here's a look at some of the top health news being talked about around the U.S. and the world today:
• The inflammation fighting properties of aspirin might help breast cancer survivors stave off a recurrence of the disease, according to a study reported in USA Today.
• A new study shows the first indications a child has autism may not develop until a baby's first year, the Sacramento Bee reported.
• Volunteering can offer a psychological boost and might even help your performance on the job, a new study shows, according to Business Week.
• Scientists are working to enroll 100,000 pregnant women worldwide in the estimated $6.7 billion National Children's Study, which aims to follow their children until their 21st birthday. The goal is to embark on "the largest, most comprehensive long-term study of the health of children, beginning event before they are born," the New York Times reported.