Daily Dose of Health News:

More teenagers suffer from hearing loss, study finds

Posted on Wed, Aug 18, 2010 : 10:42 a.m.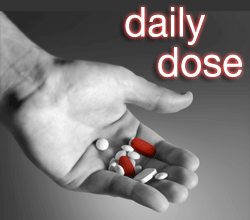 Here's a look at some of the top health news being talked about around the U.S. and the world today:
• Nearly 20 percent of adolescents in the U.S. suffer from hearing loss at some level, according to a recent study. But personal music players aren't necessarily the reason. The San Francisco Chronicle reports researchers say music may be to blame, but also believe there could be an increase in genetic disorders that could be contributing.
• There is a massive egg recall for potential salmonella contamination, CBS News reported. The recall involves 228 million eggs being sold under the brands Lucerne, Albertson, Mountain Dairy, Ralph's, Boomsma's, Sunshine, Hillandale, Trafficanda, Farm Fresh, Shoreland, Lund, Dutch Farms, and Kemps between the dates marked as 136 to 225. So for example, CBS News reported, cartons marked with the number P-1026 137 should be tossed.
• Vaccination rates for whooping cough have remained steady, even as the illness seems to be surging across the U.S., the New York Times reported.