Everything Elderly - Legacy Law Center, Home Instead Senior Care
Posted on Sun, Mar 21, 2010 : 7 a.m.
Senior Helpers sponsors Everything Elderly, a weekly half-hour radio program. It's Ann Arbor's only radio show all about seniors. The show is on 1290 am WLBY, every Saturday morning at 8:30. On this weekend's program, we featured two very interesting topics, the Legacy Law Center and Home Instead Senior Care.
Theresa Meyer and Kathi Racinski represented the Legacy Law Center. Theresa is the Director of Operations, and Kathi focuses on community awareness and care coordination.
Photo by Sheila Doeden
Highlights of the discussion included:
The focus of the practice is seniors, including estate planning, wills, trusts, probate, care coordination and Medicaid planning.
Care coordination is a growing focus of the business. This involves taking a holistic view of their client and the family, providing and coordinating all support services ("a full continuum").
People calling the firm are often dealing with a problem that just occurred. Something triggered an immediate need for assistance and support (such as a loved one admitted to the hospital). If families can plan ahead, these situations can be less stressful.

I think these were particularly useful points for the audience: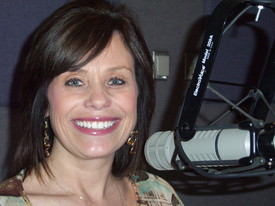 The issue we're most likely to face is becoming incapacitated, needing significant care and potentially not being able to speak for ourselves.
The two basic documents that everyone should have are the financial power of attorney and health care power of attorney.
The Legacy Law Center holds public workshops presented by their attorney Terry Bertram. These are held monthly, generally at Weber's Inn. (I was at a recent workshop, and was very impressed - Terry is really informative, and entertaining!)

If you would like to contact the Legacy Law Center, or Theresa Meyer or Kathi Racinski, please call 734-995-2383. You can also visit their website at legacypllc.com. To listen to the full 12-minute discussion, click on this link to the audio file Everything Elderly Legacy Law Center 0320.mp3.

Greg Jagst spoke next about in-home care services. Greg is the owner of Home Instead Senior Care in Ann Arbor.

Summary highlights include: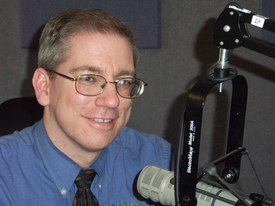 Photo by Sheila Doeden
Greg has owned and managed the business for eleven years, and finds the work very gratifying.
Home Instead provides non-medical, home helper services.
When looking for a home care agency, you want to make sure the caregivers are bonded and insured. The caregivers should be employees, not independent contractors.

From my viewpoint, I found these aspects most interesting and helpful:
Consider the "40/70 Rule" - adult children (around age 40) should be talking with their parents (around age 70) about potential care plans. They should not wait until there is a crisis. The basic point is to start talking!
Caregiverstress.com is a useful website with an assessment tool. The assessment results will point you to appropriate services and resources.
"Too Close for Comfort?" is a brochure offered by Home Instead that focuses on multiple generations living under one roof.

To get in touch with Greg Jagst or the local Home Instead office, please call 734-971-9023, or go to the website homeinstead.com. If you'd like to listen to the full 11-minute discussion, click on this link to the audio file Everything Elderly Home Instead 0320.mp3.