Everything Elderly - Chelsea Community Hospital Therapy for Low Vision, and Senior Living and Housing Awareness Week
Posted on Sun, Apr 18, 2010 : 7:15 a.m.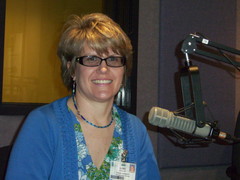 Photo by Sheila Doeden

Senior Helpers hosts a weekly half-hour radio program, Everything Elderly. It's informative entertainment all about seniors. The show airs on 1290 am WLBY, every Saturday morning at 8:30. On this weekend's program, we featured therapy for low vision patients, and the upcoming Senior Living and Housing Awareness Week.

Our first guest was Lori Galicki, the Clinical Coordinator of the In-Patient Occupational Therapy Department at Chelsea Community Hospital. Lori provided expertise on the treatment of elderly with low vision.

Highlights of the discussion include:

Patients with low vision can have problems with most of their everyday activities from using toothpaste to using the phone and doing laundry.
People should have their vision screened on a regular basis.
Risk of falls can be decreased by addressing low vision issues.
Better lighting may provide significant benefits.
Lori shared a story about a home assessment she did for a senior woman, where she "marked" switches on appliances with raised dots and contrasting colors. The woman was so pleased. She no longer needed a flashlight and magnifying glass just to set her oven temperature!
If you have low vision, it's very helpful to tell people. Be a "self advocate" and educate others on how they can help you. If you would like to contact Chelsea Community Hospital or talk with Lori Galicki, please call 734-475-4138. You may also visit their website at cch.org. To listen to the full 12-minute discussion, simply click on this audio file Everything Elderly 0417 Lori Galicki.mp3.

Our next guest was Justine Bykowski, the Housing Counseling Coordinator with the Housing Bureau for Seniors, part of the University of Michigan Health System.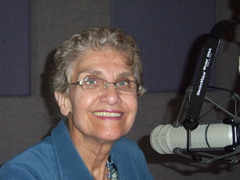 Photo by Sheila Doeden
Highlights include:
The bureau's mission is to provide guidance and direction to seniors to obtain stable housing that is affordable and meets their needs.
The bureau's services includes helping people work through financial difficulties, hopefully allowing residents to stay in their apartments and homes.
The Senior Living and Housing Awareness Week is coming up soon, May 7 to May 16. This event includes a big expo, workshops, and open houses at local senior housing facilities.
The May 7th expo is at Washtenaw Community College Morris Lawrence Building. It's a "one-stop shop" for older adults, and for businesses to network.
There are eighteen available workshops, including:

o Retirement Simplification - Navigating Financial Issues o Memory Care o Planes, Trains, and Automobiles -Senior Travel Made Easy o Comparing Costs - My Home vs. Senior Housing o Moving Made Easy.
There are no costs for any of the events thanks to the generosity of the many local business sponsors (Diamond sponsors are Evangelical Homes of Michigan, Horizons Planning Corporation, Legacy Law Center, Program for Positive Aging - U.M. Department of Psychiatry). To contact Justine, or the Housing Bureau for Seniors, please call 734-998-9336, or logon to med.umich.edu/seniors. For the workshops, please call to register, preferably by April 23rd. To listen to the full 12-minute talk, please click on this audio file Everything Elderly 0417 Justine Bykowski.mp3.