Everything Elderly: Buying and selling a home, nutrition support therapy
Posted on Sun, Jun 27, 2010 : 8:53 p.m.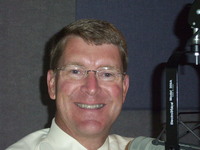 Everything Elderly is the half-hour radio show that airs 8:30 a.m. Saturdays on 1290 AM WLBY, sponsored by Senior Helpers. This weekend we had two good conversations, about real estate and nutrition support therapy.
Our first talk was with Vance Shutes, a Realtor with Real Estate One. Vance has been in this field for 16 years, and it was obvious he really loves his career! He tends to focus on "the middle of the market."
For seniors looking to downsize their housing, this may be a good time to sell. When selling your home it's critical to consider the "three Ps - preparation, presentation and price". Seniors may have accumulated lots of belongings in their home, and they will want to clear stuff out (maybe move things to a storage facility). With more empty space their home will appear larger. Importantly, when looking for your next home, set appropriate expectations, it will be smaller!
Ann Arbor is an attractive place to live, including for those a bit older. Parenting magazine just named Ann Arbor the fourth best city for families (including grandparent families). Our city has great health care facilities, with three major hospitals, not to mention amazing entertainment options and proximity to a major airport.
To contact Vance Shutes or Real Estate One, please call 734-476-2063, or go to the website salinemichiganrealestate.com. To listen to the 12-minute discussion, please click on this audio file Everything Elderly Vance Shutes 0626.mp3. We spoke next with Kristie Jasionek-Brewton, a registered dietitian with Heartland IV Care. Kristie called in to the radio studio from her office in Tennessee (hence no photo!). Kristie helps folks who aren't able to get adequate nutrition by mouth. The two major alternative processes are tube feeding (enteral) and intravenous or IV (parenteral).
Patients who require tube feeding or IV feeding may have had an operation or an illness that has compromised their ability to swallow or digest normally. They may need to use one of these processes just short term, or it could very long term. Kristie works with patients all over the country, and coordinates services with registered nurses and therapists who see the patients in their homes.
It was interesting to talk about the emotional aspects of nutrition support therapy. Eating is such a huge social part of our lives. Some patients become angry or depressed, or may feel isolated. Kristie helps people set goals and better take charge of their personal well-being. To get in touch with Kristie or Heartland IV Care, please call 866-560-8955, or you may email pharmacy@heartlandhomehealth.com. To listen to the full 11-minute talk click on this file Everything Elderly Kristie Jasionek-Brewton 0626 (2).mp3.