EVERYTHING ELDERLY
HEALTH:

Warm water aquatic therapy a great addition to Saline rehabilitation center

Posted on Mon, May 21, 2012 : 5:57 a.m.
Local rehabilitation services will expand and improve with the new Redies Center for Rehabilitation and Healthy Living. Kay Brown joined the program this past weekend to share this message. Kay is the director of admissions and marketing for Evangelical Home Saline, part of Evangelical Homes of Michigan.
Evangelical Home Saline acquired part of the St. Joseph Mercy Saline Hospital to allow them to greatly expand the size of their subacute rehabilitation services. The current rehab facility has just 22 beds. When the new Redies Center for Rehabilitation and Healthy Living opens in late summer or early fall, that number will increase to 54 beds, including 26 private rooms.
The new center will provide clients with subacute rehabilitation after they have been in the hospital, generally to help recover from orthopedic surgery. The center will have physical, occupational, and speech therapy as well a full spectrum of nursing care.
Kay is most excited they will have a pool and will offer warm water aquatic therapy. This is a low-resistance therapy program allowing clients that don't yet have the ability to undergo weight-bearing exercises to start therapy. This accelerates the whole therapy and recovery process.
The Redies Center will also offer Life Trails, taking therapy outside. There will be walking paths with different surface types, including wood chips, cement, and grass.
The center will also feature the Blossom Cafe, an internet cafe with outside patio seating, and open to the public. Clients will be able to easily order the exact type of food suggested by a registered dietician.
To hear our 13-minute conversation, click the audio link:
To get in touch with Kay or Evangelical Home Saline, call 734-429-9401 or visit the website evangelicalhomes.org.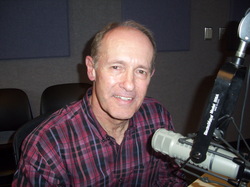 Photos by Alan Caldwell
Our next guest explained why good hydration is so important. Steve Bebber is the owner of Health Pro and a health and wellness specialist. Steve's company is involved in a wide variety of health and wellness areas and has good success working with high school athletes to senior citizens.
Hydration is critically important because it affects every function in the human body. Steve shared how 75 percent of us are under-hydrated. We may drink when our body tells us we're thirsty, but being thirsty is a warning sign we are already under-hydrated.
Not all water is the same, much of it may have undesirable chemicals. With bottled water, Steve suggests making sure the bottle is a good quality plastic. Steve himself likes Perfect brand water, which is oxygenated and filtered 15 times. Drinking other liquids does provide hydration, but most water alternatives contain sugar or caffeine, which should be consumed in limited quantities.
We had a helpful discussion with Steve about good nutrition. Steve is a big proponent of organic choices, particularly if you can find certified truly organic fruits and vegetables. You don't want your fruit and vegetables to have been sprayed with chemicals.
Steve also believes in the value of high-quality supplements. For weight management, supplements can help with metabolism, increasing energy levels and promoting weight loss.
To listen to this 14-minute discussion, click the audio link:
To get in touch with Steve, you may e-mail him at healthpro@tc3net.com or call Health Pro at 734-646-1232.