EVERYTHING ELDERLY
HEALTH:

Terrific learning opportunities for local seniors

Posted on Mon, Aug 27, 2012 : 5:57 a.m.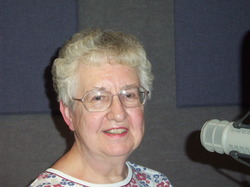 Photo by Sheila Doeden
There is a wonderful organization in Ann Arbor that helps seniors stay mentally active. Jeanette Coviak is the council chair for Elderwise and was our guest on the radio show this past weekend. Elderwise is a lifelong learning program for seniors in southeast Michigan.
Elderwise began 20 years ago with the objective of providing additional learning opportunities for seniors. It is an all-volunteer organization with 300 members.
Elderwise schedules three semesters a year and is currently enrolling for their fall term, offering 52 classes.
As Jeanette explained, the class subjects are very diverse, including nature, history, politics, travel, theater, hobbies, lifestyle and health and science. Classes are taught by retired professors or other experts in the subject.
Fees are a very reasonable: $5 per class for members and $10 per class for non-members. For membership, annual dues are $30 per year. Most participants are seniors, but anyone is eligible to join any class — as Jeanette said, "We don't check IDs."
All classes are held during the day at Cleary University (on Plymouth Road, near U.S. 23). All classes are two hours longs, and some meet just once while others meet six or seven times during the semester. Classes can have anywhere from 10 to 60 students.
Jeanette says their teachers always want to come back. "They love to teach at Elderwise; the students are very engaged and listening." There is good interaction and discussions, and their students ask thoughtful questions.
Elderwise is also very proud of the socialization element of their classes. Each class includes a 10-15 minute break for mingling and chatting. This promotes camaraderie and the building of meaningful lasting friendships.
To hear our 15-minute conversation, click the audio link:
To get in touch with Elderwise or Jeanette, or register for classes, call 734-929-9097 or visit the website elderwiselearning.org.
Sheila and I then discussed Alzheimer's disease and dementia, and upcoming fundraisers for the Alzheimer's Association. As Sheila explained, dementia is memory loss and it's a symptom caused by a medical condition. Alzheimer's disease is the cause for about 70 percent of those with dementia.
Alzheimer's is a fatal disease where the neurons in the brain are slowly dying. As the brain dies, memories die, and they tend to die in reverse chronological order. Alzheimer's disease is the only top 10 cause of death with no cure, no way to prevent it, and not even a way to slow it down.
Sheila offered suggestions for communicating with those with the disease. Do not ask "Don't you remember?" as that is very frustrating to the individual. You need to accept where they are at, and focus on what they can still do, not what they can't do anymore. If your loved one repeats a question or story again and again, try to redirect the conversation, changing the subject.
We talked about giving choices. Instead of "What do you want for lunch?" ask "Would you like a grilled cheese sandwich or tuna fish?" That makes it very easy, and those with Alzheimer's need their life to be simple.
There are several Walk to End Alzheimer's events coming up soon. Nearby walks include the Lenawee County Walk to End Alzheimer's on Sunday, Sept.16 at Trestle Park in Adrian (registration at 1 p.m., walk at 2 p.m.). The Ann Arbor Walk to End Alzheimer's is on Sunday, Oct. 14, at Gallup Park (registration begins at 11 a.m., walk at 1 p.m.).
These are terrific fund-raising events for the Alzheimer's Association. These walks support research to find a cure as well as providing local support and educational activities.
To listen to this 11-minute talk, click the audio link:
To get in touch with the Alzheimer's Association or to sign up for a walk, call 800-272-3900 or access the website alz.org.