Candid Cancer: Scanxiety
Posted on Fri, Mar 4, 2011 : 8 a.m.
I've been cancer-free for eight years, and most days I lead a blissfully normal life, physically and emotionally. By nature an optimist, I rarely worry about things I can't control, but I can always count on scans and checkups to trigger a bout with angst. There's absolutely no reason to suspect a recurrence so I shouldn't worry, but I always start to jitter in the days leading up to a scan. And it never ceases to amaze me that ration and logic (I have no symptoms) shifts so easily to doubt (Will I dodge the bullet again?).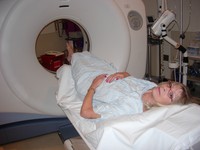 Betsy de Parry
Invariably, my husband Alex tells me, "You're fine. We have nothing to worry about." Thinking that he isn't a
CT scanner
, much less a doctor who can read its results, I invariably shoot back, "And you know this how?" It's become an annual exchange between us.
On scan day, I wait my turn in the same room where I waited for my first scan nine years ago. I always take a good book but it never gets read because my mind is too busy racing back to the dark place where cancer all started. Will I get to keep living my life? Or will I have to tell everyone that I have cancer again? What will it do to our lives? What will happen to the files full of notes that I've made to write witty stories? Will my daughter want my mother's silver?
And then I wait. For good news or bad. Either way, I just want to know. And until I do, life pauses. It's not that I stay home wallowing in self pity. On the contrary, I go about my daily routine and make myself busy — very busy — but Alex knows better than to ask me to make any decisions until I know that it's safe again to buy green bananas.
Thankfully, I've been getting good news for eight years. And I've never had to wait long for CT results. By the time I see Dr. Kaminski a few days after the scan, I've been called. With clean scans, I breathe a partial sigh of relief, but there's still bloodwork to be done just before the appointment. And I had some pretty diabolical blood so I don't completely exhale just yet.
At my last checkup — in August 2010 just days away from the eighth anniversary of my last treatment — Alex and I waited in the examining room as we'd done so many times. Dr. Kaminski walked in, smiling broadly, and exclaimed, "You're perfect!" I laughed and teased, "I've been trying to tell Alex that all these years!" Chuckling, Alex groaned and told Dr. Kaminski that he'd never be able to live with me now.
We all had a good laugh. It was fun and appropriate. No one but me noticed that my stomach unknotted. My knees stopping wobbling. And my whole body relaxed. The moment could have been very awkward if I'd reacted to the tsunami of relief that washed over me by throwing myself at Dr. Kaminski's feet and thanking him for working so hard to give me a second chance. I didn't do that, but having been handed a ticket to remain in the Land of the Healthy, it crossed my mind.
So unless something unexpected happens — and we all know it could — I'm safe to buy green bananas. I'm safe to make long term plans. I'm safe. Until the next scan and checkup triggers another bout of uneasiness. Even though I know that fretting may be irrational, I've come to accept it as part of having once had cancer.
But that isn't what people want to hear in the months following treatment. They often tell me — almost pleadingly — that they are "sure" that I don't worry about scans anymore, and I know they're hoping for assurance that their worry-free day will come. But I'd be lying if I said it does.
Sure, the angst diminishes each year, but I've yet to meet anybody who doesn't twinge around scan time no matter how far they are past treatment. The condition is so common that it's even acquired its own name: scanxiety.
Scanxiety covers a range of feelings from intense fear and dread to less intense jitters, but it can render us irritable and anxious. We can, however, learn to manage it just like other stressors. Some of my girlfriends swear by retail therapy. Others, like me, get maniacally busy doing whatever we can to shift our minds to anything else. Still others do yoga, meditation, Reiki, or another of the many choices of calming complementary therapies. And some take prescription drugs.
One method does not fit all, so my advice is to try whatever has worked in previous stressful situations, and if that doesn't work, try something else. The best way to diminish scanxiety (and I've tried lots of ways) is to stay busy and make plans to do something you know you'll look forward to doing.
But eliminate it entirely? Doubtful. There's nothing normal about having cancer, but scanxiety is a normal part of the cancer experience.
And to those who admonish us not to worry about things we can't control, I scoff, "Try having cancer and you'd know that a simple snap of the fingers can't possibly eliminate the fact that, in varying degrees, emotion simply overcomes logic because scans are reminders of Cancer Land and nobody wants to return."
I've finally come to accept that logic and emotion never did completely knit back together and probably never will. But that's OK. Accepting that fact takes a lot less work than denying its existence, and it even helps me to laugh at myself and put emotion into perspective. And so if I have to cope with a little scanxiety for a few days here and there, it's a very small price to pay for the peace of mind that comes from knowing that just in case my body ever decides to betray me again, we'll know earlier rather than later, when betrayal is easier to conquer.
Next Friday, March 11: A Report On The War On Cancer: Part I.
Previous installments of Candid Cancer are archived here.
Betsy de Parry is the author of The Roller Coaster Chronicles, a book about her experience with cancer and the shorter, serialized version she wrote for annarbor.com. Find her on Facebook or email her.