EVERYTHING ELDERLY
HEALTH:

Many families wait until there's a crisis to make decisions about care for elderly loved ones

Posted on Mon, Jul 23, 2012 : 5:57 a.m.
Families often begin their search for an assisted living senior community because they need to find a place immediately. We heard this on the radio show this past weekend from Tanum Ollila, the sales and marketing manager with Brookdale Place Ann Arbor, located on Ann Arbor-Saline Road, across from Busch's.
Family often hear from a rehabilitation facility that mom or dad should not return home, that they need to move to a senior community (and frequently that means within a few days). These crisis-driven situations are very hard emotionally on the family and certainly on the elderly loved one. With some advance planning, this stress can be significantly reduced.
Tanum recommends visiting several senior communities, asking lots of questions and having a good look around. The staff should know the names of their residents. The building should not have unpleasant odors. The most important factor will probably be the overall atmosphere — the community has to feel right, like it could become home.
At Brookdale Place Ann Arbor, they take care of residents from independent living to those needing significant care, including memory care in their Clare Bridge neighborhood. They want to help their residents age in place, providing an increasing level of service as necessary.
Tanum spoke about their residents becoming more tech savvy. The community has a wireless hotspot, and some residents now have iPads.
For their Claire Bridge memory care, they are adding a large wall-mounted television screen. This will be used for Skype-like video communications between residents and their families. The residents will be able to stay connected with their families. Importantly, the families will have continuing reassurance that mom or dad is doing well.
To hear this 13-minute discussion, click the audio link:
To get in touch with Tanum or Brookdale Place, call 734-327-1350 or visit their website brookdaleseniorliving.com.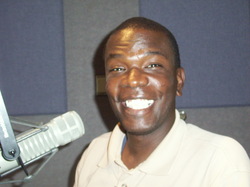 Photos by Sheila Doeden
Brian Royster joined the program next to share his insights on investments. Brian is a local financial advisor with Edward Jones. His office is on W. Ellsworth Road, near the Ann Arbor Airport, across the street from the new Costco.
We talked about investing for income, which has become more challenging with interest rates so low right now. Brian uniquely described how "the internal termite — inflation" eats away at the low rates that CDs are paying, eroding your savings and reducing your purchasing power.
Potential tools to produce greater income include creating a bond ladder, purchasing bonds with varying maturities. Stocks that pay dividends may also be a good alternative, and these stocks tend to be less volatile. Brian shared how Thomson Reuters, the local Ann Arbor company, has paid a rising dividend for 19 straight years.
We spoke about the many automotive retirees in this area, and how currently many are being asked if they want to buy out their pension for a lump sum payment. While every individual's situation is different, Brian tends to favor the lump sum payment. The payment of the pension usually stops when the individual passes away, while the lump sum is passed on to your beneficiaries.
Brian shared how gold can be a good investment, but it's important to buy it the right way. Using an exchange traded fund, you can effectively buy the entire gold index. Alternatively, you may purchase a gold/precious metal mutual-type fund.
Brian strongly advocates that everyone should be investing, no matter your age, or how much or little you have to invest. You should get started, and then it becomes a habit.
To listen to this 13-minute talk, click the audio link:
To get in touch with Brian Royster or Edward Jones, call 734-995-3306 or access the website edwardjones.com.