When God says 'no' to our prayers, there's a reason
Posted on Fri, Oct 29, 2010 : 6 a.m.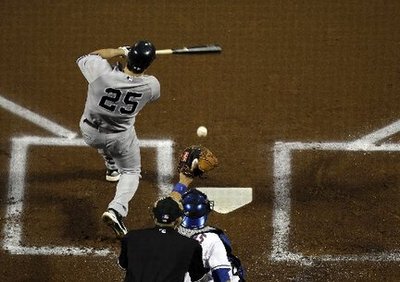 Photo courtesy of media.nj.com

My dad introduced me to baseball as a toddler, but I didn't need much help falling in love with it. Actually, loving baseball might be the first thing I learned to do by myself. Something I've been doing almost as long as playing baseball is striking out. Failing in one of the many ways the game affords its players. Whenever I strike out, even to this day, my dad can do little to make me feel better.

However, there is one circumstance for which he has a "go-to" line, which he always thinks will cheer me up. He probably learned it and developed the deadpan delivery from his uncle (my great-uncle) Frank Verdi, who was a New York Yankee in the 1950s, and managed minor league teams for what felt like 100 years. Whenever I strike out swinging, my dad starts our conversation about the at-bat the same way: "At least you went down swingin'."

Frankly, I still hate when my dad says this. It feels like he's making fun of me. It's like he's saying, "You might've struck out if you didn't swing, but that swing was bad enough to removed any question we could've had with regards to how bad you are." But, as an older, (hopefully) wiser person, I can identify a flaw in my reaction to his paradoxical compliment. I too readily equate my ability to succeed with my worth. Thus, if I swing poorly and miss it's not because it took one bad swing, it's because I'm a bad swinger.

I see now this childhood hang-up I had on the diamond has wedged itself into my relationship with God. When I pray for something that I want with all my heart and God comes through, I might thank Him, but I try my best to see the "logical," Earthly factors that caused my wish to be fulfilled. Yet, when things go poorly and I get a result I don't want, whether it's a poor grade, my favorite team losing, sickness that doesn't leave, or the continual failing of a loved one's health, I turn on God and blame Him for my pain.

Right around here is where most Christians I've talked to just nod, look off into the distance, and vaguely claim that God works in mysterious ways and it's not our business to know His plans for us. While as a Christian I stand by the Biblical basis for this outlook, I'm also a New Yorker. When something bad happens we want answers. Now! Most of the time New Yorkers want to know whose ass to kick more than how to actually fix the problem. It's a mindset you can't shake, you just learn to live with. Like hemorrhoids.

In thinking about this dilemma, so far, I've only come up with a question: If no part of God is evil how could He possibly understand how it works, or be immune to its effects?

It seems that the hard-to-swallow truth about our tragedies is twofold: Not only does God not deserve blame for the wicked Earthly circumstances we encounter, He actually feels the pain they cause more deeply than we do.

When Jesus' best friend (his cousin John the Baptist) was murdered in prison, Jesus was an absolute wreck. He got in a rowboat and secluded himself to weeping until He pulled Himself together. But when Jesus struggled to comprehend why God allowed such a terrible thing to happen to someone He loved, He didn't row out into the sea and curse at God. He prayed more intensely, with even less distraction.

He sought answers from God. He didn't demand them. Even God has to cope with the pains our lives provide.

While my great-uncle Frank was dying I constantly prayed he'd get out of the hospital. Then that our family in Florida would get some peace. Then that the stroke wouldn't keep him in bed long. Then that the second stroke wouldn't kill him. I was getting a lot of very heart-wrenching "no" responses from God. I felt like He'd forgotten us.

It was around this time I began seriously thinking about death, and how no matter how old our loved one is we'll always think they're going before their time. But God is at work in our souls always, never ceasing to bring us closer to Him. When we're ready for the perfection of Heaven He calls our number, and we haven't much say in the matter.

It seems to me that the people on God's Earth with the worst circumstances must be the people in which He's hidden his most precious souls. The ones He knows He needs by His side most urgently because of all the unshakable Spirit He poured into them. Maybe death, to God, is like skipping a grade. Maybe it's like graduating. Yeah, you'll miss the friends you had in your old classes, but you've outgrown elementary nonsense. Bigger plans await.

I don't think we're wrong to pray for people fighting for their lives though, even if God plans to take them home soon. Even when we're praying against His will, He still wants to hear our love poured out because, like any great father, He'd rather we go down swingin'.

Maybe we don't understand why until we're ready.

Ben Verdi is a man with a laptop and a Bible and a nasty curveball. He can be reached at jetboiz@aol.com. This article is dedicated to Frank Verdi. They just don't make Yankees like you anymore.