faith:

Judea Pearl to Speak at Jewish Federation Main Event at Eastern Michigan University

Posted on Tue, Sep 28, 2010 : 3 p.m.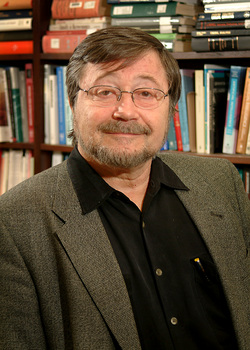 Dr. Judea Pearl, co-founder and president of the Daniel Pearl Foundation, will keynote the Jewish Federation of Greater Ann Arbor Main Event at the Eastern Michigan University Convocation Center on Tuesday, October 12 at 7 p.m.
The program will also feature presentation of the Spirit of the Federation Award to Federation past president, Laurence N. Smith, and a musical tribute by Maestro Arie Lipsky of the Ann Arbor Symphony Orchestra.
Dr. Pearl's address is entitled, "Being Jewish, American and Western in the 21st Century."
The Daniel Pearl Foundation was co-founded by Judea and Ruth Pearl in February 2002 following the murder of their son, Wall Street Journal reporter Daniel Pearl, in Pakistan. Dr. Pearl explains that the foundation was created to continue Daniel's life work of dialogue and understanding and to address the root causes of his tragedy. The foundation sponsors journalism fellowships aimed at promoting honest reporting and East-West understanding, organizes world-wide concerts that promote inter-cultural respect, and sponsors public dialogues between Jews and Muslims to explore common ground and air differences. The foundation received the Partners in Humanity Award from Commonground in 2002 and the Roger E. Joseph Prize for its distinctive contribution to humanity in 2003.
Dr. Pearl, a professor of computer science and director of the Cognitive Systems Laboratory at UCLA, is the recipient of numerous scientific awards, including the 2008 Benjamin Franklin Medal for Computer and Cognitive Science from the Franklin Institute.
Since the establishment of the Daniel Pearl Foundation, Dr. Pearl has become an important voice in the discussion of Jewish identity, Israel and interfaith relations. He and his wife Ruth co-edited the book, I am Jewish: Personal Reflections Inspired by the Last Words of Daniel Pearl, winner of the 2004 National Jewish Book Award for Anthologies. Dr. Pearl and Professor Akbar Ahmed of American University were co-winners of the inaugural $100,000 Purpose Prize for their work in The Daniel Pearl Dialogue for Muslim-Jewish Understanding. The Purpose Prize honors five individuals 60 or older who have demonstrated uncommon vision in addressing community and national problems.
The Main Event is the largest annual event sponsored by the Jewish Federation of Greater Ann Arbor. It is generously supported by a grant from the Ford Motor Company Fund. The Main Event is open to the community. There is a $36 per person registration fee and a required minimum gift of $100 to the Jewish Federation Annual Campaign per family. For registration information, call the Jewish Federation of Greater Ann Arbor at (734) 677-0100 or register on the Federation website at www.jewishannarbor.org.
David Shtulman is Executive Director of the Jewish Federation of Greater Ann Arbor. He can be reached at david@jewishannarbor.org.