event preview
Ypsilanti Heritage Festival bringing history, music and more together
Posted on Mon, Aug 13, 2012 : 5:57 a.m.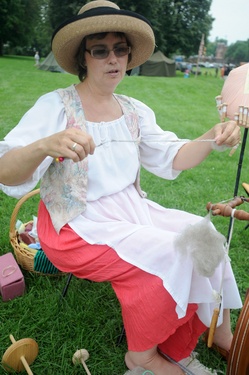 Angela J. Cesere | AnnArbor.com file photo

What event brings together a punk Elvis tribute band, home and garden tours, beer, a powwow, history lectures, a flea market, puppet shows, blackjack and poker, art and craft booths, duck races and more?

The 34th annual Ypsilanti Heritage Festival, happening Aug. 17-19 in Ypsilanti's Riverside Park (primarily).

Festival director Andrew Clock is new to the festival, as is his team, so patrons can expect some changes and additions.

"We've done a complete revamping of the entertainment," said Clock. "The biggest change that people will notice is the main-stage entertainment—we've moved the stage under the beer tent this year."

Like an all-ages show, the Big Top tent will require kids under 18 to be accompanied by an adult, since beer (from Arbor Brewing Company and Wolverine State Brewing Company, for example) will be available for purchase; and live music will be on offer until midnight. (Check out the full schedule here.) Meanwhile, a casino, making its return to the festival this year, will occupy a tent adjacent to the Big Top, and a Gazebo Stage will feature a variety of community performances.

"In the historical area, we've got a two-pronged approach," said Clock. "We've got a Native Youth Alliance encampment, with traditional native dancing and drumming. It's essentially a full powwow, but placed within the context of the Heritage Festival. … It's almost like it's a festival within a festival. Then, at the Riverside Arts Center, we've got Chautauqua, a series of lectures, film and performances focusing on local history. … But we'll still have the home tours and garden tours that everyone's used to as well."

A flea market will be up and running on Cross Street throughout the festival; wine tastings are, for the first time, on the festival's schedule; and the Children's Village will offer family-friendly activities and performances.
PREVIEW
Ypsilanti Heritage Festival
What: Live music (and other types of entertainment), beer, food, a casino, vendors, home and garden tours, and family activities will all be part of this free annual event.
Where: Riverside Park in Ypsilanti.
When: August 17-19.
How much: Free. For more information, visit www.ypsilantiheritagefestival.com.
Ozone House, for example, will host its first PHD Program, a showcase for teens, at Frog Island, in collaboration with Community Records, and featuring guest appearances from teen bands from Neutral Zone. An interactive drum circle, a clown, a magician, and a puppet show are just part of the Children's Village lineup.
While it might seem like the fest is expanding, "space-wise, it's actually contracting somewhat," said Clock. "The City of Ypsilanti wanted us to put up fences around the festival, … so we have entry gates, and controlled entry, so there are specific places where you come into the park now rather than wandering in wherever you like."
And the new version of the fest has a new primary objective: "We want to grow our demographic," said Clock. "We still want to appeal to those that have come forever—we've been around for 34 years now, and we want to uphold the traditions of the festival—but at the same time, by bringing together the entertainment and the beer garden, we hope to get younger people interested in it, too. It's not just a typical community festival, where you come and see art booths. … We want to offer something with real entertainment value."