art review
WSG Gallery showcasing compelling Connie Cronenwett landscapes
Posted on Sun, Aug 26, 2012 : 5:51 a.m.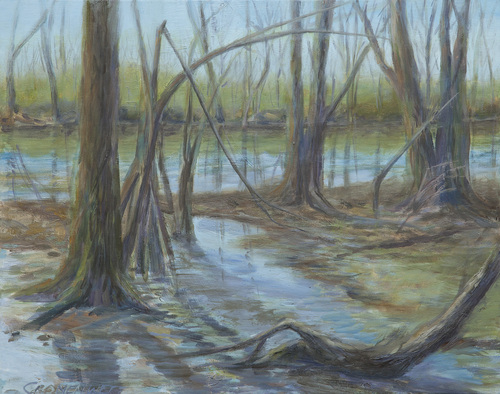 Connie Cronenwett's "Grasses … Lines … Vines" at the downtown Ann Arbor WSG Gallery carves our Great Lakes State's countryside with the lines that draw nature together.

Her work is reminiscent of regional landscapes we've seen before, but it's also an art that peers beyond the natural boundaries of representation in its quest to see geometric interconnections.

The hardest task for any landscape artist is to create a view that appears seamless. It's what separates the genre artist from the amateur.

In Cronenwett's hands, the view is certainly meditative. It seemingly exists for its own sake and the perspective seems unforced. Yet nothing could be further from the truth.

For not only does Cronenwett select her view; she supplies its tensile tonality as well as its palette. And both of these strategies supplement her world view, line by line.

As she tells us in her artist's statement, her paintings "explore variations of line in the landscape, the repetitions and waves of grasses contrasting with the solidity or graceful trunks of trees; grape vines crawling and anchoring the dunes." Indeed, she suggests, the display's title "might very well have been called 'Lines in the Landscape.'

"I'm interested in the chaotic aspects of nature in addition to nature as a source of romantic, idealized beauty," continues Cronenwett. "Grasses allow me to play with varied line, repeated strokes, color variation, and pattern. The long horizontal format lets the eye sweep across the shape, much as if we were scanning the horizon.

"I began this work by painting outside on location. As the work progresses, it moved away from literal imagery, and toward imaginary scenes. Landscape becomes less realistic; line becomes more prominent, allowing me to play with variation, pattern, and color."

The supreme example in Cronenwett's exhibit is her handsome 20"x30" oil on canvas "Empire Beach—Lake Michigan" where she starts with the world, yet ends with her own world view.
This northwest Michigan locale in the center of the Sleeping Bear Dunes National Lakeshore is certainly one of the more prepossessing landscapes in our state. It's a panoramic environment that not only represents our region at its best; but it also paradoxically shows Michigan at both its most spectacular and most restful.
Cronenwett adds through her composition a meticulously structured view that captures all these natural elements. The view of Lake Michigan in the background might reflect a relatively mundane interpretation of the area, but this is hardly Cronenwett's interest. She's rather more focused on the play of grass in the painting's foreground. And in the hands of a lesser artist, this might also be comparatively ordinary.
Yet by combining these two compositional aspects together and expertly balancing her line so that the grass becomes a commentary on the scene while the placid waterscape behind structures the balance of the arrangement, Cronenwett creates an idealized tableau whose minor dramas supplement each other.
It's a chancy strategy that also informs the 11 other landscape paintings in this tidy WSG exhibit—and there's plenty of attention to line in these works— but nowhere else does Cronenwett's passion for grass and line seem so single-mindedly vibrant.
"Connie Cronenwett: Grasses... Lines... Vines" will continue through Sept. 8 at WSG Gallery, 306 S. Main St. Gallery hours are noon-6 p.m. Tuesday-Wednesday; noon-10 p.m. Thursday-Saturday; and noon-5 p.m. Sunday. For information, call 734-761-2287.