concert preview
With tough times behind him, Detroiter Stewart Francke hits The Ark Friday with full band, new tunes
Posted on Mon, Aug 13, 2012 : 5:09 a.m.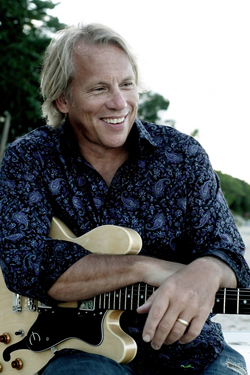 Life is definitely looking up these days for Detroit-based rock and soul singer-songwriter Stewart Francke, after a few years singing the blues. The deaths of his own, and his wife's parents, as well as his own long battle with leukemia, had left him emotionally drained, he said.

"We've had some rough years," Francke, who will play at The Ark Friday, acknowledged. "It comes with the territory of being alive. We lost a lot of people in a short amount of time … but all and all we're doing well. We're on a roll."

Among the high points: Bruce Springsteen joined Francke for a duet on his 2011 album "Heartless World," and Francke opened for Bob Seger on several tour dates last year (but not at the EMU Convocation Center date in Ypsilanti).

The Boss made his appearance on the track "Summer Soldier," a song about the military men and women who signed up for what they thought were limited tours of duty only to find themselves serving full time overseas.

"We've met a few times and had some nice talks," said Francke of the Springsteen connection. "He's always been wonderful to my wife and children. I just asked him, he dug the song and he did it. … It was a high point of my career. He didn't collaborate with anyone else last year—I am happy to be the one he did do something with."

Opening for fellow Detroiter Seger happened in a similarly casual way. "We'd met a few times, I know his management pretty well, so that's how that came about. … It was really just a fantastic experience. It's what you shoot for (as a musician)," Francke said.

A highlight this year, he expects, will be the release of another, yet untitled album, late this fall.
PREVIEW
Stewart Francke
Who: Motown-based singer / songwriter who plays introspective rock and soul. Fellow Detroiter Jeff Scott opens.
What: Songs from Francke's latest CD, "Heartless World," and some new material.
Where: The Ark, 316 S. Main St.
When: 8 p.m. Friday, Aug. 17.
How much: $15. Info: www.theark.org, 734-761-1451.
I'm really happy with the new songs—happier than I was with the songs on the last album, which I was also very happy with," Francke said. "I hadn't done anything since 2002, so it was like getting the old engine warmed up. Now I am full stride and feeling great about this new stuff. …. It's like my White Album in a weird way," he added, referring to the famous Beatles disc. "It's my 13th record and it's a real wide, diverse array of music."
He's raising funds for the new CD via the crowd-funding Web site Kickstarter.com. "We're doing the new record, plus a documentary on my life and on the struggles of it and the ups and downs and the music with (filmmaker) Keith Famie," Francke reported.
Clearly a lot has happened since his leukemia diagnosis in 1998, and Francke said the experiences can't help but be reflected in his music.
"Going through the cancer and bone-marrow transplant changed me as a person so much. And then the loss of my parents and my in-laws in such a short amount of time changed me further. It chips away at you. As an artist you reflect the changes in your being and your surroundings in how you express yourself, so yeah, it changed my music completely," he said.
Not that he doesn't still rock.
"There's still some out-and-out rockers on there," he said of the current CD, "and a lot of feel-good music. You know, you have to reflect what you've been through that's difficult, but you don't want to drag people through the muck with you completely. A lot of times people expressing loss and the human condition can be beautiful, too, and remind you of your own journey and your own sense of being alive. As long as I'm honest with my audience—they've been very supportive of me."
The Ark crowd will get to hear some of his new tunes, Francke promised. He'll be playing the show with a full band, "some of the best players in Detroit, which is to say, some of the best players in the world really. We're really looking forward to The Ark. It's always a special place to play."
Jeff Scott will open the show, also with a band. His second album, "The Long Way Home," was released earlier this year on Francke's Blue Boundary label.