WEMU names David Fair news director
Posted on Mon, Aug 27, 2012 : 4:35 p.m.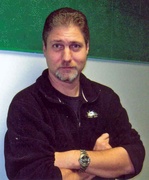 WEMU has announced that David Fair has been named the station's news director.

WEMU (89.1-FM) is the public-radio station at Eastern Michigan University. Fair has long served as WEMU's local host for "Morning Edition," National Public Radio's popular weekday morning program.

According to the announcement from the station, news director responsibilities were previously handled by Program Director Clark Smith, who remains in that position. As news director, Fair will guide and direct the news coverage provided by reporters Andrew Cluley, and Bob Eccles (also local host of NPR's "All Things Considered"), along with student reporters and interns.

"David has a deep knowledge of the Ann Arbor and Ypsilanti communities after being an integral part of our news team for 18 years as Morning Edition host," said General Manager Molly Motherwell in a press release. We're looking forward to him applying that knowledge to shaping and directing our local news coverage as news director."

From the WEMU announcement:
Having David as news director gives WEMU's local news effort the kind of solid focus that it needs," said Smith. "It's a great move for day to day news operations, for growth, and, most importantly, for our listeners."

"I'm looking forward to serving as team leader for a small, but dedicated and talented staff to increase WEMU's news presence in the community," said Fair. "Ultimately, we serve at the discretion of listeners and contributors. Being proactive in identifying and addressing the interests and needs of our stakeholders is paramount. As good as the WEMU News Department is now, we all embrace the opportunity to enhance our service to the community."

Nearly three-quarters of David Fair's 20-plus years in radio has been at WEMU. Since 1994, he has been on the air at 5 a.m. each weekday on 89.1-FM as the local host of NPR's Morning Edition. Over the years, Fair has had the opportunity to interview nationally and internationally known politicians, activists and celebrities. But he feels the most important features and interviews have been with those who live and work here at home. He believes his professional passions and desires fit perfectly into WEMU's commitment to serving a local audience.

In addition to hosting the program, Fair has also developed two popular local segments: "Issues of the Environment," heard Wednesdays at 8:20 a.m., and "Cinema Chat" with charismatic co-host Russ Collins, executive director of Ann Arbor's Michigan Theater, Thursday at 7:40 a.m. (rebroadcast at 5:35 p.m.). Fair also co-produced WEMU's 2011 award winning documentary "9-11, A Community Looks Back," and has produced countless long-form features and reports.