concert preview
with video:

Rising local band Wayward Roots bringing its fresh take on bluegrass to The Ark

Posted on Fri, Aug 17, 2012 : 7:59 a.m.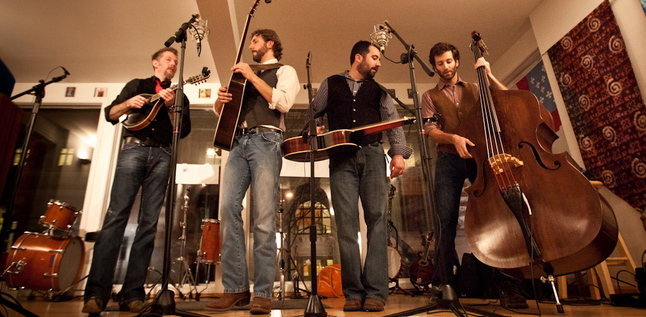 Don't let the lineup of standup bass, dobro, mandolin and acoustic guitar fool you; it's not that easy to pigeonhole the up-and-coming, Ann Arbor-based Wayward Roots as a bluegrass band.

"We've played traditional festivals before, and we're kind of looked at sideways because we're a little different from what they expect, said Wayward Roots bassist and co-founder Todd Lang. "And then sometimes the same thing happens at newgrass festivals, where maybe we're a little more traditional than what they're used to hearing.

"We respect the roots of Bill Monroe and the Stanley Brothers, but because we come from varied backgrounds, we approach the music from a slightly different angle."

But it's those disparate influences that Lang says set the band apart from its peers in both traditional and more adventurous circles. All those musical inputs will be on display when the band performs its first headlining show at the Ark on Aug. 19.

Mandolinist Jason Dennie is a sought-after sideman and session artist who also plays out on his own as a fingerstyle guitarist and singer. Dobro player Tony Pace cut his teeth on equal doses of Motown and acoustic music, while newest member John Sperendi is a longtime local sideman with roots in rock, jazz and folk music.
PREVIEW
Wayward Roots
Who: Rising Ann Arbor band.
What: Bluegrass-influenced Americana.
Where: The Ark, 316 S. Main St.
When: 7:30 p.m. Sunday, Aug. 19.
How much: $15. Tickets available from The Ark box office (with no service charge); Michigan Union Ticket Office, 530 S. State St.; Herb David Guitar Studio, 302 E. Liberty St.; or online from the Michigan Union Ticket Office.
Lang, meanwhile, has played everything from improvisational jazz to rockabilly to indie rock in touring bands that played all over the world. But there was always a part of him that came back to traditional guitarists like Norman Blake and Doc Watson.
In Wayward Roots, he said, he's able to fuse his jazzbo persona with his inner hillbilly.
And he's having a blast.
"What attracts me was how raw and native this music is—how organic just plucking on strings is," he said. "You can't hide behind it and it's really difficult to make it sound good."
Fortunately, our band is made up of these amazing musicians who are able to take the music to all these amazing places."
He added with a chuckle: "Yeah, we're not traditionalists by any stretch."
He said the band is 80 percent of the way through a new CD, a first with the current lineup, although they have a live EP available at shows. The new album, underway at Big Sky Studio, should be out by spring.
Wayward Roots' career highlight came in the form of a second-place finish at last year's Telluride Bluegrass Festival competition, despite the fact that they didn't play a single traditional tune during their two sets.
"It was a blast … what an atmosphere," he said of sharing rarified air with bluegrass legends like Peter Rowan and Punch Brothers and Nickel Creek mandolinist, Chris Thile. "We were really, really happy with how that whole thing turned out."
But it's closer to home that Wayward Roots has really staked its claim, spearheading a bonafide revival of interest in bluegrass and progressive acoustic music, thanks to popular gigs at Circus's Bluegrass Night and at Live.
"People are drawn to it because it's real," he said. "Music today is so diluted, so people with an intellect look for things that stimulate them from a music standpoint.
"And Ann Arbor is no different. The scene is developing because college students want to hear some creative stuff."