UMS announces performances for 2012-13 season: New York Philharmonic, Yo-Yo Ma, Dianne Reeves and more
Posted on Sun, Apr 22, 2012 : 5:58 a.m.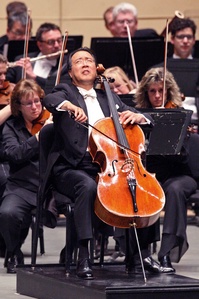 The University Musical Society today announces its 2012-13 season, featuring a host of big names including the Chicago Symphony Orchestra, the Martha Graham Dance Co., the National Theatre of Scotland, Dianne Reeves, Angelique Kidjo, and Yo-Yo Ma.

The season will also celebrate the 100th anniversary of Hill Auditorium, one of the world's great concert halls and a major venue for UMS performances.

The season runs Sept. 21-April 28 and includes 68 performances by 42 different artists/ensembles.

In addition to announcing the new season, UMS has is also launching a new brand identity. A new logo and tagline — Be Present — will mark all UMS communications. The UMS website featuring the new brand and the 2012-2013 season will launch today. UMS has partnered with Ann Arbor's Phire Branding to create this new look.

UMS will continue with the performance start time policies laid forth in the 11/12 season: all performances that happen on Mondays, Tuesdays, Wednesdays, or Thursdays will begin at 7:30 p.m. With a couple of exceptions, Friday and Saturday performances remain at 8 p.m. Sunday performance times vary depending on the artist.

"The 12/13 season continues to affirm the artistic excellence at the core of UMS's mission," said Kenneth C. Fischer, who enters his 26th season as UMS president, in a prepared statement. "In addition to presenting familiar favorites, the 134th season includes 21 UMS debut performances. At the heart and history of UMS is our signature Choral Union Series and the 50th Annual Chamber Arts Series, both of which feature a stellar lineup of classical music concerts including the Chicago Symphony Orchestra, New York Philharmonic, pianist Murray Perahia, and some of Ann Arbor's favorite chamber music ensembles.

"UMS is also proud to highlight Michigan talent this season, including a performance by the Detroit Symphony Orchestra and a celebratory evening of Detroit's living music legends entitled From Cass Corridor to the World. In addition, we are proudly celebrating the 100th birthday of Hill Auditorium this season. While historic, this architectural landmark only grows more vibrant with each passing season, welcoming a wide range of world-class artists and eager audiences for a performing arts experience like none other. It will be a season of cherished classics and new-found favorites — it will be a season you cannot miss."

Subscription ticket packages go on sale to the general public on Tuesday, May 1 and will be available through Friday, Sept. 14. Current subscribers will receive renewal packets in April and may renew their series upon receipt of the packet.

For subscribers interested in creating a "custom-fit" series, UMS offers "Series: You," offering a 10 percent discount (on series ordered before Friday, June 29).

Tickets to individual events will go on sale to the general public online, in person, and by phone on Monday, Aug. 6. UMS donors of $250 or more may purchase tickets to individual events beginning Monday, July 30.

To be added to the mailing list, contact the UMS Ticket Office at 734-764-2538 or visit www.ums.org. UMS also has an e-mail list that provides up-to-date information about all UMS events; sign-up information is available on the website.

Here are details on the season, organized by series, with descriptions from UMS:
134TH ANNUAL CHORAL UNION SERIES: 10 CONCERTS IN HILL AUDITORIUM
Within the signature Choral Union Series, UMS presents 10 concerts in historic Hill Auditorium:
• The Chicago Symphony Orchestra performs works by Wagner, Strauss, and Franck under the baton of Riccardo Muti on Thursday, September 27 at 7:30 p.m.
• Pianist Murray Perahia performs works by Beethoven, Schumann, and Chopin on Saturday, October 20 at 8 p.m.
• The Mariinsky Orchestra performs a program of Strauss, Shostakovich, and Stravinsky with pianist Denis Matsuev on Saturday, October 27 at 8 p.m.
• The Detroit Symphony Orchestra performs a concert that features the famous Hill Auditorium organ on Sunday, January 13 at 4 p.m.
• Harry Bicket conducts countertenor David Daniels and The English Concert in a concert performance of Handel's Radamisto on Sunday, February 17 at 4 p.m.
• The New York Philharmonic performs two concerts on the Choral Union Series: works by Mozart and Brahms on Saturday, February 23 at 8 p.m. and works by Mussorgsky, Bloch, and Tchaikovsky on Sunday, February 24 at 2 p.m. [note time].
• Violinist Anne-Sophie Mutter performs with pianist Lambert Orkis on Thursday, March 14 at 7:30 p.m.
• The University Symphony Orchestra, UMS Choral Union, and Choruses from the U-M School of Music, Theater, and Dance perform the Darius Milhaud's Oresteian Trilogy: Agamemnon, Les Choephores, and Les Eumenides on Thursday, April 4 at 7:30 p.m.
• Trumpet player Alison Balsom performs a program of Handel, Albinoni, Bach, Vivaldi, Purcell, and Biber with The Scottish Ensemble in her UMS debut on Saturday, April 20 at 8 p.m.


50TH ANNUAL CHAMBER ARTS SERIES
The 50th Annual Chamber Arts Series presents six of today's leading chamber musicians performing both traditional and contemporary repertoire in Rackham Auditorium:
• The Jerusalem String Quartet performs work by Shostakovich and Beethoven on Wednesday, October 10 at 7:30 p.m.
• The Belcea Quartet performs an all-Beethoven program on Sunday, November 11 at 4 p.m.
• The New Century Chamber Orchestra with leader and violinist Nadja Salerno-Sonnenberg performs Mendelssohn, Bolcom, Villa Lobos, and Strauss on Saturday, February 2 at 8 p.m.
• The Berlin Philharmonic Woodwind Quintet with pianist Martin Katz performs a program of Danzi, Ibert, Aho, Milhaud, and Poulenc on Saturday, February 9 at 8 p.m.
• The Artemis Quartet performs works by Mendelssohn, Bach, and Piazzolla on Wednesday, March 13 at 7:30 p.m.
• The Takacs Quartet performs works by Hayden, Britten, and Beethoven on Friday, April 12 at 8 p.m.


INTERNATIONAL THEATER SERIES
This year's International Theater Series features six incredible productions, two of which will unfold in the Power Center for the Performing Arts and two of which will be presented in non-traditional venues. Please note performance times, which vary. Productions include:
• Parisian theater company Theatre de la Ville presenting Ionesco's "Rhinoceros" at the Power Center Thursday-Saturday, October 11-13. Considered a leading examples of the Theater of the Absurd movement, Ionesco's 1959 play sees the entire population of a town morphing into rhinoceroses — all except the leading man Berenger, who resists the beasts in favor of his own humanity and his own ideas.
• The National Theatre of Scotland performs "The Strange Undoing of Prudencia Hart" at Ypsilanti's Corner Brewery (720 Norris Street) Tuesday-Sunday, January 8-13. A sellout run at the 2011 Edinburgh Fringe Festival, this evening of supernatural storytelling, music, and theater inspired by the Border ballads and Scottish poetry, brings theater to the pub, where stories have been told, retold, sung, and passed on for centuries.
• Propeller returns to Ann Arbor after their highly praised debut in 10/11 to perform Shakespeare's "Twelfth Night" and "The Taming of the Shrew," Wednesday-Sunday, February 20-24 in the Power Center. Led by Edward Hall, Propeller is an all-male theater company that brings Shakespeare into the 21st century by applying a rigorous approach to text to a contemporary aesthetic, creating a sense of visceral immediacy and unmatched access. The plays will be performed in repertory by the same ensemble cast.
• Performance poet Suzanne Andrade and animator Paul Barritt from the UK-based theater company 1927 perform The Animals and Children Took to the Streets Wednesday-Sunday, April 10-14 at the Performance Network. Utilizing a spectacle-based atheistic that The Telegraph calls "junk-shop retro," Andrade and Barritt paint a living picture of a rag-tag band of children rising up in revolt against the moneyed classes. 1927 has mastered a delicate marriage of live performance, animation, film, song, and technology as a means of exploring innovative ways of telling stories.
• The New York-based SITI Company, under the direction of Anne Bogart, performs Trojan Women (after Euripides) in the Power Center Saturday-Sunday, April 27-28. Jocelyn Clark's contemporary adaptation of Euripides' play follows the fates of the women of Troy after their city has been sacked, their husbands killed, and as their remaining families are about to be taken away as slaves. The ensemble-driven SITI Company performs this tale about the raw clarity that can be found within the sheer madness of grief.


22ND ANNUAL DANCE SERIES
The UMS Dance Series includes four events in Ann Arbor's Power Center.
• Vancouver-based dance company Kidd Pivot Frankfurt RM, under the artistic direction of Crystal Pite, incorporates original music, movement, text, and a rich visual design to perform their newest piece entitled The Tempest Replica on Friday-Saturday, September 21-22 at 8 p.m.
• Known for dazzling audiences with their European aesthetic grounded in American sensibilities, the Aspen Santa Fe Ballet, under the artistic direction of Tom Mossbrucker, makes its UMS debut on Saturday, October 6 at 8 p.m. and Sunday, October 7 at 2 p.m. Program to be announced.
• Under the artistic direction of Janet Eilber, the Martha Graham Dance Company returns to Ann Arbor to perform two different programs on Friday-Saturday, January 25-26 at 8 p.m.: The Friday, January 25 program is entitled "Inner Landscapes" and includes a film montage by Peter Sparling with music by Eric Santos, as well as Mary Wigman's Witch Dance, Paul Nordof's Every Soul is a Circus, Lamentation Variations with choreography by Aszure Barton, Yvonne Rainer, and Lar Lubovitch, and Martha Graham's Night Journey. The Saturday, January 26 program features Graham's Appalachian Spring, and Robert Wilson's Snow on the Mesa.
• Under the artistic direction of mother-daughter team Ranee and Aparna Ramaswamy, Ragamala Dance performs Sacred Earth on Wednesday, April 24 at 7:30 p.m., an evening of live music and Indian dance that explores the interconnectedness between humans and the landscapes that shape them.


19TH ANNUAL JAZZ SERIES
With four different events, the UMS Jazz Series celebrates the diversity of jazz, highlighting contemporary trailblazers while honoring jazz's legacy. Concerts include:
• Dave Holland Big Band on Saturday, November 17 at 8 p.m. in the Michigan Theater
• The Dianne Reeves Quartet with special guest Raul Midón on Saturday, December 8 at 8 p.m. in Hill Auditorium
• From Cass Corridor to the World: A Tribute to Detroit's Musical Golden Age is an MLK day concert on Monday, January 21 at 7:30 p.m. in Hill Auditorium. Featuring an A-list of Detroit artists, this concert celebrates the Golden Age of the 1950s-60s, Motown, the Soul Era, Contemporary R&B, and Hip Hop. The concert features the trio D3, made up of music director/pianist Geri Allen, bassist Robert Hurst, and drummer Karriem Riggins, along with an exciting line-up of other Detroit artists to be announced.
• Jazz at Lincoln Center Orchestra with Wynton Marsalis returns to UMS to perform in Hill Auditorium on Thursday, January 31 at 7:30 p.m.


DIVINE VOICES SERIES
The Divine Voices Series celebrates choral music tradition with three incredible concerts — two at St. Francis of Assisi and one at Hill Auditorium. Concerts include:
• The Turkish all-male vocal ensemble Basiani will perform Georgian folk songs and music from the orthodox tradition on Thursday, October 4 at 7:30 p.m. at St. Francis of Assisi Catholic Church.
• The British, all-male a cappella sextet The King's Singers will perform on Thursday, February 14 at 7:30 p.m. at St. Francis of Assisi Catholic Church.
• Harry Bicket conducts countertenor David Daniels and The English Concert in a concert performance of Handel's Radamisto on Sunday, February 17 at 4 p.m. (This concert is also featured on the Choral Union series.)


GLOBAL MUSIC SERIES
This season, UMS celebrates music from Mexico, Brazil, Africa, Japan, India, and Iraq with six stunning performances in Hill Auditorium, including:
• Mariachi Vargas de Tecalitlan returns to UMS on Sunday, January 27 at 4 p.m. after their overwhelmingly joyful 2010 debut.
• Brazil's great composer-lyricist Gilberto Gil performs on Friday, November 16 at 8 p.m.
• Africa's "premier diva" (Time Magazine), Grammy Award-winning vocalist Angelique Kidjo makes her UMS debut on Friday, February 1 at 8 p.m.
• Japan's premier drumming ensemble Kodo returns to UMS on Friday, February 15 at 8 p.m.
• Classical Indian music sarod player Amjad Ali Khan performs with his sons on Saturday, February 16 at 8 p.m. • The great Iraqi maqam artist Hamid Al-Saadi performs a double bill on Saturday, March 23 at 8 p.m. with his protégé, trumpet player Amir ElSaffar and his group Two Rivers.


ADDITIONAL EVENTS
Several events will also be presented as part of the UMS 12/13 season, but don't neatly fit into the series designations above:
• Suzhou Kun Opera Theater of Jiangsu Province performs two different performances featuring scenes from traditional Chinese opera on Friday-Saturday, 28-29 at 8 p.m. in the Lydia Mendelssohn Theater.
• The Ann Arbor Symphony Orchestra and the UMS Choral Union perform Handel's Messiah under the direction of Jerry Blackstone on Saturday December 1 at 8 pm and Sunday, December 2 at 2 p.m. in Hill Auditorium.
• Indie-classical composer/performer Gabriel Kahane & Friends perform genre-bending chamber-pop to the Arthur Miller Theater on Thursday, January 17 at 7:30 p.m. and Friday, January 18 at 8 p.m.
• Cellist Yo-Yo Ma performs with The Silk Road Ensemble on Saturday, March 16 at 8 p.m. in Hill Auditorium. This special performance is available to all subscribers of any series only as an add-on performance.
• Grammy Award-winner Esperanza Spalding performs works from her newest release, Radio Music Society, on Saturday, April 6 at 8 p.m. in the Michigan Theater.
• The legendary Bobby McFerrin performs SpiritYouAll on Thursday, April 18 at 7:30 p.m. in Hill Auditorium.