event preview
with video:

Tonight at Top of the Park: world music, wine tasting, 'Breakfast at Tiffany's,' and more

Posted on Wed, Jun 27, 2012 : 5:13 a.m.
Tonight is Day 11 of Top of the Park, the popular, free (donations welcome) outdoor happening featuring music, movies, kicking back, running into friends, and a variety of other attractions.
Each day in cooperation with the Ann Arbor Summer Festival—which presents Top of the Park as well as main-stage ticketed events—AnnArbor.com is publishing a rundown of the night's happenings. Here's an overview of tonight's schedule, followed by a more detailed look at the events and attractions:
OVERVIEW

6:30-8 p.m. - Wind Down Wednesday
6:30-8 p.m. - KidZone
6:30 p.m. - Sumkali (folk / jazz)
8 p.m. - noori - pop / rock / world
10 p.m. - Movie: "Breakfast at Tiffany's"

ENTERTAINMENT DETAILS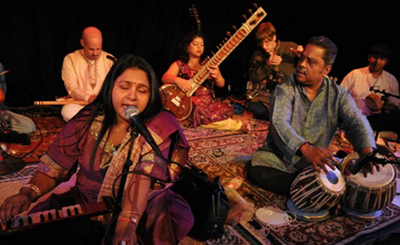 Sumkali - 6:30 p.m.
Representing and celebrating the incredible diversity of the Ann Arbor community, local band Sumkali mixes the traditions of Indian classical and folk music, infusing their compositions with jazz, flamenco, and funk influences.
Performing since: 2003
Home base: Ann Arbor
Style of music: Indian World Fusion
Members: Meeta Banerjee, Scott Brady, John Churchville, Dan Piccolo, Prashanth Gururaja, Mahesh Ganesan, Dave Sharp, Atmaram Chaitanya
Band name backstory: An amalgamation of two Hindu words meaning "beat" and "unbeat"
Day jobs: Music teacher, Researcher, PHD candidate, Student.
Favorite road food: Granola, pizza, chocolate, doughnuts
Favorite stage outfit: Traditional Indian apparel
Musical hero: Ravi Shankar, Zakhir Hussein
Website:
www.sumkali.com/fr_home.cfm
Facebook:
www.facebook.com/Sumkali
Twitter:
twitter.com/#!/Sumkali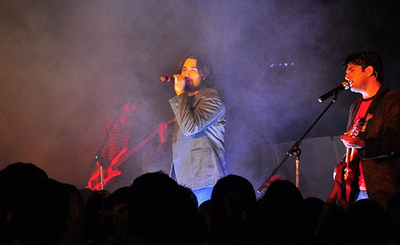 noori - 8 p.m.
One of Pakistan's top pop bands, noori busts through local convention and international rock barriers with brainy songs and emotional beats.
Performing since: 2003
Home base: Lahore, Pakistan
Style of music: rock and roll
Members: Ali Noor - vocals and guitar; Ali Hamza - vocals and bass; Louis John Pinto - percussion; Faraz Answer - guitar; Rakae Rehman - sitar; Zeeshan Parwez - keyboards, synths and loops; Mohammad Omer - tour manager.
Band name backstory: noori means 'The Light' in Urdu
Day jobs: no day jobs, but there is a lawyer and economist in the group
Favorite road food: bbq lamb and dossas
Favorite stage outfit: T-shirts and jeans
Musical hero: Depends on the member, but heroes from J.S. Bach and Zakir Hussein to Brian Eno and Steve Vai.
Website:
nooriworld.net/band/
Facebook:
www.facebook.com/officialnooriworld
Twitter:
twitter.com/#!/nooriworld
Movie: "Breakfast at Tiffany's" - 10 p.m.
Running time: 115 minutes. Rating: PG. (1961).
Struggling writer Paul Varjak (
George Peppard
) moves into a New York apartment building and becomes intrigued by his pretty, quirky neighbor Holly Golightly (
Audrey Hepburn
). Holly's lifestyle confuses and fascinates Paul; in public she flits through parties with a sexy, sophisticated air, but when they're alone she changes into a sweetly vulnerable bundle of neuroses. Based on the book by Truman Capote.
OTHER ATTRACTIONS
The Roots Lounge, presented by AnnArbor.com
Stop by The Roots Lounge, a new feature at the festival this year, presented by AnnArbor.com. With free public WiFi available through 20/20 Communications, it's a place where you can post, share, tweet, read or just relax, listen and enjoy. And if your smartphone or tablet runs out of juice, stop by and use the free charging station.
Tonight, between 7:30 and 8 p.m., catch a public interview with
Brennan Andes
, leader of the popular local band
Macpodz
, talking about the band's upcoming Top of the Park appearance this Friday and other subjects. And watch for video from the interview to be posted tomorrow on AnnArbor.com.
Wind Down Wednesday - 6:30-8 p.m.
Enjoy a wine-tasting event on Wednesdays at Top of the Park. For a $15 tasting fee, attendees can sample up to three different wines from that evening's featured selection. Tastings include wine, descriptive tasting notes, and wine experts to educate on the featured selections. In addition, drink specials on each of that evening's presented wines in The Grove until 9:00 pm for all participants. 21+. No reservations needed; just show up. Limited capacity, so come early. This evening's tasting features wines from Italy.
KidZone - 6:30-8 p.m.
As described by the festival, "An interactive area for our youngest concert-goers, the Kidzone tent provides a fun and safe area for children and their parents to discover and explore a wide variety of hands-on activities with different community partners. From getting temporary tattoos, creating homemade instruments, or jamming out rock band style, KidZone offers different nightly activities for families at Top of the Park."
Top of the Park takes place in front of the Rackham Building on East Washington Street. In addition to the daily entertainment, a variety of local food vendors will also be on hand each night. For more information, see the
Summer Festival website
, and watch AnnArbor.com for
complete coverage of festival events
.
View
Summer Festival Top of The Park 2012
in a larger map