event preview
Tonight at Top of the Park: Photo night with ticket giveaway, beer tasting, alt country music, 'Ghostbusters'
Posted on Tue, Jun 26, 2012 : 5:50 a.m.
Tonight is Day 10 of Top of the Park, the popular, free (donations welcome) outdoor happening featuring music, movies, kicking back, running into friends, and a variety of other attractions.
Each day in cooperation with the Ann Arbor Summer Festival—which presents Top of the Park as well as main-stage ticketed events—AnnArbor.com is publishing a rundown of the night's happenings. Here's an overview of tonight's schedule, followed by a more detailed look at the events and attractions:
OVERVIEW

6:30-8 p.m. - Photo Night at the Roots Lounge
6:30-8 p.m. - Tasting Tuesday
6:30-8 p.m. - KidZone
6:30 p.m. - The Flutter & Wow - Americana / alternative country
8 p.m. - Bearfoot - bluegrass / alternative country
10 p.m. - Movie: "Ghostbusters"

ENTERTAINMENT DETAILS


The Flutter & Wow - 6:30 p.m.
The Flutter & Wow are husband and wife duo Tasha and Brian Lord. Known for their captivating stage presence, they merge tight vocal harmonies and infectious rhythms into their Americana infused country music.
Name: The Flutter and Wow
Performing since: March 2011
Home base: Detroit
Style of music: Alt-Americana
Members: Tasha Lord, Brian Lord, Takashi Iio, Larry Labeck, Brandon Husken (lineup varies but this is the lineup for AASF)
Band name backstory: Flutter and Wow is in essence audio frequency "wobble." This name was chosen after hearing an Elvis Costello tune of the same name. He likened aspects of analogue recording and playback to a deep surprising love. Probably his only really happy love song-and very clever in the usual Costello style. Brian and I are humble acolytes to the world's great songwriters, and he is high on that list.
Day jobs: I'm the only one with a non-music related day job, I also work in research. I can't seem to kick the habit and I also do a decent amount of commercial and promotional work.
Favorite road food: Veggie juice, pretzels, cereal, and eventually something chocolate nefariously purchased from a gas station.
Favorite stage outfit: A mini-dress and 4 inch stelletos...and i'm entirely speaking for myself here. With the boys there is a lot of plaid, western shirts, and sharp fitted blazers and vests.
Musical hero: Brandi Carlile, Elvis Costello, Ian Moore..the list goes on and on.
Website:
www.theflutterandwow.com/fr_home.cfm
Facebook:
www.facebook.com/TheFlutterandWow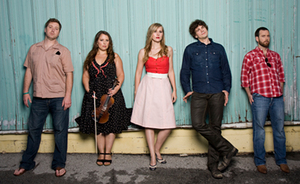 Bearfoot - 8 p.m.
Called "new-timey," "post-bluegrass," and "string band music for the 21st century," the Alaska quintet Bearfoot has seen their 2009 Compass Records debut Doors And Windows top Billboard Magazine's Bluegrass Album Chart and their videos on regular CMT rotation.
Performing since: 1999
Home base: Nashville
Style of music: original string band roots rock
Members: Angela Oudean - fiddle, vocals; Nora Jane Struthers - vocals, guitar; Todd Grebe - vocals, guitar; Jason Norris - mandolin, vocals; PJ George - bass, vocals; Drew Lawhorn - drums. Band name backstory: we're originally from Alaska! Day jobs: Full time musicians Favorite road food: coffee! Popcorn, Corkys BBQ in Memphis, whole foods salad bar, anything local and delicious! Thank you Yelp. Lots of Thai food please.
Favorite stage outfit: Sexy vintage
Musical hero: Tim O'Brien, Crooked Still, Gillian Welch, Bruce Molskey, David Grisman, Bluegrass Album Band, Alison Krauss, Roger Miller, and many many many more!
Website:
www.bearfootband.com/
Myspace:
www.myspace.com/bearfootband
Facebook:
www.facebook.com/bearfoot.fp
Movie: "Ghostbusters" - 10 p.m.
Running time: 105 minutes. Rating: PG. (1984).
1980s comedy classic starring
Bill Murray, Dan Aykroyd, Harold Ramis
and
Sigourney Weaver
. When three scientists get kicked out of their cushy university jobs where they studied the occult, they decide to set up shop in an old firehouse and become Ghostbusters, trapping pesky ghosts, spirits, haunts, and poltergeists for money. They wise-crack their way through the city, and stumble upon a gateway to another dimension, one which will release untold evil upon the city. The Ghostbusters are called on to save the Big Apple.
OTHER ATTRACTIONS
The Roots Lounge, presented by AnnArbor.com
Stop by The Roots Lounge, a new feature at the festival this year, presented by AnnArbor.com. With free public WiFi available through 20/20 Communications, it's a place where you can post, share, tweet, read or just relax, listen and enjoy. And if your smartphone or tablet runs out of juice, stop by and use the free charging station.
Tonight it's Photo Night. Join in the fun as AnnArbor.com's photo journalists will take your picture and include it in online photo gallery. All participants will be entered for a chance to win 2 tickets to
The Capitol Steps
on July 4 at The Power Center.
Ticket giveaway rules available here
. Stop by between 6:30 and 8 p.m. Smile!
Tasting Tuesday - 6:30-8 p.m.
Learn about beer varietals and the brewing process in this craft beer sampling on Tuesdays at Top of the Park. For a $15 tasting fee, attendees can sample multiple beers of each evening's featured microbrews. No reservations needed, just show up! This evening's tasting features the following brown ales and stouts: Brooklyn Brown; Newcastle Brown; Leine Big Eddy Wee Heavy; Anchor Breckles; Saugatuck Pier Cove Porter; Suagutuck Neopoliton Stout.
KidZone - 6:30-8 p.m.
As described by the festival, "An interactive area for our youngest concert-goers, the Kidzone tent provides a fun and safe area for children and their parents to discover and explore a wide variety of hands-on activities with different community partners. From getting temporary tattoos, creating homemade instruments, or jamming out rock band style, KidZone offers different nightly activities for families at Top of the Park."
Top of the Park takes place in front of the Rackham Building on East Washington Street. In addition to the daily entertainment, a variety of local food vendors will also be on hand each night. For more information, see the
Summer Festival website
, and watch AnnArbor.com for
complete coverage of festival events
.
View
Summer Festival Top of The Park 2012
in a larger map