event preview
Thousands will gather, pay tribute to the King, at Michigan Elvisfest in Ypsilanti Friday-Saturday
Posted on Mon, Jul 9, 2012 : 6:50 a.m.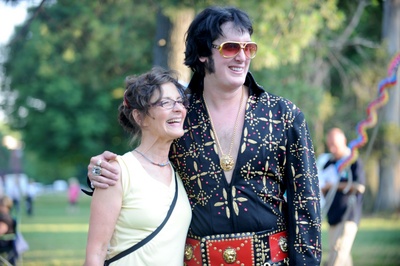 Feel free to dust off your blue suede shoes and head to Ypsilanti this weekend as the Michigan Elvisfest returns to Riverside Park Friday night and Saturday with its 12th annual extravaganza of all things Elvis.

The event attracts as many as 7,000 fans annually, according to organizers.

Although some Elvis-themed events are contests, the one in Ypsilanti is not. "We're an outdoor concert," explained Wanda Smith, the event's entertainment director.

"We're always bringing in new people into our festival. People come every year and they also bring other people. It's like a big family reunion," added Smith, who said people are expected to attend the event from all over the world.

Eleven Elvis tribute artists (they prefer that term rather than "Elvis impersonators") are expected to perform. Musical homage will also be paid to music icons Roy Orbison, Tom Jones, Richie Valens and the Blues Brothers, although Smith said the emphasis will be on Elvis.

"We have a couple of new guys this year, and we're doing less of the other acts and more of Elvis. A lot of people asked that we do a little more Elvis this year," said Smith.
PREVIEW
Michigan Elvisfest 2012
Who: 11 Elvis tribute artists, plus The Change of Habit Tribute Band performing.
What: Musical, family-friendly homage to Elvis Presley, his music, and his memory. Also: children's activities, a classic car show, Elvis merchandise, food and more.
Where: Riverside Park, Ypsilanti.
When: Friday, July 13 (5 p.m.-midnight); Saturday, July 14, (noon-midnight).
How much: $12.50-$30. Info: www.mielvisfest.org or 734-483-4444.
Some, like Canton's
Chris Ayotte
, will be returning favorites; however, two of the performers—Illinois-based
Rick Saucedo
and 20-year-old
Nick Miller
—are new to the Michigan Elvisfest.
The sprit of Elvis' music still brings people together, Smith said. "Elvis' music transcends all ages."
On Saturday, fans can enjoy Elvis' favorite Grammy-winning gospel songs from 2 -3 p.m. To commemorate the 33rd anniversary of Presley's death, a candlelight vigil will be held on Saturday evening.
In the spirit of this event, have some fun and dress as Elvis, or at least in the style of the 1950s-60s. For sure you won't be the only one.
"We don't do a contest or anything, but we have women come with poodle skirts on, with Hawaiian shirts on. Everybody has their own thing. One year we had a woman show up as Marilyn Monroe," Smith added.