Paul Wiener | A Head in the Cloud
Column:

This Week's Web Picks: speaking freely; the corrections; yesterday's news; the many tongued-Bible

Posted on Sat, Sep 22, 2012 : 5 a.m.
This is the next in a series of post about interesting and useful websites.
First Amendment Center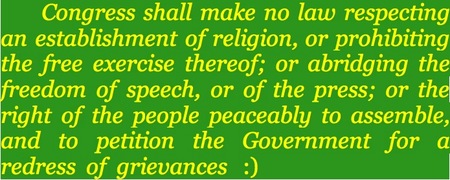 Who doesn't believe in free speech and the First Amendment? Free speech can seem like a Biblical injunction. And the last few weeks have shown just how terribly consequential it can be, where someone else's bible is concerned.
When free speech, as protected by the U.S. Constitution, collides with religious zealotry, and results in global rioting and death, is it really worth it, and are its defenders really up to snuff? Luckily, this website allows you to avoid answering these questions and confronting ethical consequences by providing dozens of articulate, specific, generally nonpartisan explanations of exactly what the First Amendment is supposed to do.
A project of Vanderbilt University and the Newseum, the Center's distinguished experts cover the 45-word amendment's application to the press, religion, speech, assembly and the right to petition. In America, that is.
What religious liberties do teachers enjoy? Do kids have to say the Pledge of Allegiance in public school? What can protesters do at funerals? Should cameras be allowed in the courtroom? How should we deal with hate speech online?
Signed responses to opinions and essays are invited. The site also publishes dozens of current news stories from many sources on various free speech issues. It offers well-designed, downloadable lesson plans for schools, such as this 57-page document on "Social Media, the Classroom and the First Amendment".
It tells you how to enter the annual First Amendment Moot Court Copmpetition. And it lists its many free publications, such as "Bridging the Gap: Religion and the News Media," that may be too hard to find on its other pages.
If you come away from this site believing free speech is safest residing in a fortress built by lawyers, journalists and teachers, you'll also find that storming it is about as easy as robbing the U.S. Mint.
Common Errors in English Usage
Those of you who lose sleep over how "hopefully" is used in a sentence — or who have caused others to lose sleep over it — can now rest easy. Paul Brians, a retired Professor of English from Washington State U., whose website this is, or was, says ANY way you use it is OK. In its first three years, his site, he says, had 3 million visitors. I believe him, but I wonder who they were.
His website is plumb full of mistaken, mis-misperceived, mis-spelled or mis-used words and phrases. Anyone who loves English can find an itch to scratch here.
What's the deal with "amongst?" Should that line be a slash or a backslash? Is "irregardless" a word? Is there a right way to pronounce "poinsettia? When are you really replete? Is there such a thing as "cold slaw?" What the heck are dangling modifiers anyway?
An interesting link from Brians' page concerns non-errors — words, practices and phrases we only think are problems, like the use of "momentarily," conjunctions to begin a sentence, or saying "off of." Another link contains phrases people confuse, or say, for other phrases they mean, like "anchors away" for "anchors aweigh" and "garner wages" for "garnish wages" (most of them sent in as inquiries from readers).
Brians' site is also a a blog, and was published in 2008 as a book. His site also links to several other useful and intriguing websites about language usage, such as World Wide Words and Crash Blossoms (headlines gone wrong). But is there really such a thing as correct English? Only the great writers know the answer.
I read the news today. Oh boy. Did you have that feeling too? If you simply can't bear to read it any more — or even if you can — but are still a news junkie in spite of it all, here' s a possible solution. Read the news that was reported between 1836 and 1922, in American newspapers, and looking just the way it did way back then, in beautiful smudgeable print, thanks to digitization, the Library of Congress and the always-embattled National Endowment for the Humanities.
Here are hundreds of local newspapers from 26 states, from Arizona's Daily Tombstone to Kansas' Wichita Eagle to Utah's Deseret Evening News.
As valuable as this site is, it can be a challenge to know how to best use it. Though the papers are searchable, the implication is that you'd better know what to search. Almost any word or proper noun will do (all search terms are highlighted in the results), but why search for ambushes, rifles or circuses, when you can search for meatier news of Cherokee treaties in 1838 Burlington, corset ads from 1901, Custer's last stand, Frederick Douglas, Buffalo Bill, sports reporting from 1891 or see a family portrait of Thomas Edison?
Or if you need a lift, look at how the financial Panic of 1837 was reported at the time.
What did the headlines look like? Were there headlines? What were the buzzwords when bees were all that buzzed?
How hard it was to locate information on the page! Though many of them still prefer to handle old newspapers, where libraries haven't thrown them out, scholars will know how to use this digital resource. The rest of us can only stand in awe of what can be revealed when we ride the plunging browser, not only about our history, but about how it was recorded, reported, published, formatted and buried.
We've all heard that the Bible is the biggest best-selling book of all time, though "best" and "selling" may be stretching the case. Most-published, most-distributed, most-unread, perhaps. The Qu'ran and Chairman Mao's Quotations might give it a run. It hardly matters.
The Bible as we know it has defined, spread and challenged literacy for many centuries. But what is the Bible we know? Was God's only begotten text wrapped like a mummy between King James' covers in 1611? Of course not.
Readers and lovers of the Bible live all over the globe. Why else would Psalm 46, verse 10, be translated as "Kia ata noho, a kia matau ko ahau te Atua; e whakanuia ahau i waenganui i nga tauiwi, e whakanuia ahau i te whenua" — in Maori? Or as "Hij laat overal de oorlogen ophouden, breekt de wapens doormidden en verbrandt de strijdwagens" — in Dutch?
Among many things, this site offers dozens of fulltext, online versions of the Bible in many languages and dialects — some rare — including more than 30 English versions. Bibles can be searched by keyword, passage, and topic. A number of audio Bibles are here and can be listened to online, including one in Chinese. The Witness the Bible Project for children is available as an audio.
This site of course is primarily for people of faith, but many a Bible scholar and devotee has been known to march to a different drummer. An Easy-to-Read version of the Bible makes it more approachable for some. A collection of multi-volume commentaries on the Bible is available, though none are skeptical, I suspect.
And for those who need a blog to make things real, the Bible Gateway blog does a fine job of it. This site's greatest strength, I believe, remains its vastly-ranging search function. It should satisfy anyone looking to tame the beasts that populate the Book, whether of the field or of the air or of the heart.