Paul Wiener | A Head in the Cloud
Column:

This Week's Web Picks: datavision; turning tables into facts; a bird in your ear; anybody's buddy

Posted on Sat, Sep 1, 2012 : 5 a.m.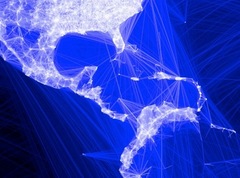 This is the next in a series of posts about interesting and useful websites.
Visual Complexity
A picture used to be worth 1,000 words. What's it worth now? This adage is between 90 and 100 years old, when photography and magazine ads were getting a jump on our attention.
The computer has changed not only the way visual information is conveyed, but the way it is gathered, generated, displayed and interpreted. Edward Tufte is one of data visualization's founding gurus, and was certainly an inspiration for this beautiful site showing hundreds of creative, computerized designs and maps that illustrate trends and ideas using large data sets.
Many of the designs have been conceived as works of art in themselves. Narratives 2.0 deconstructs and visually re-imagines music tracks. And here's one way of looking at the U.S. trade and surplus deficit (for 2009).Software Evolution Storylines shows patterns in how programmers work.
Words themselves make fascinating subjects. Here is a semantic network generated from speeches at the SXSW Interactive Festival. patterns are often emergent: information displays can suggest meanings and directions that were never predicted or imagined.
Though, to be honest, turning any data variables into forms and colors is bound to look interesting and shapely to someone. Each entry on Visual Complexity is accompanied by a description of its origins and purpose, as well as the name of its creator and the website it emanated from. Manuel Lima's site also features a blog and a collection of data visualizations links.
If you've just had too much screen bombardment, this site has now become a book. You read it here.
Fact: 63.1 percent of Hispanic family households in 2011 were married couples. Fact: 16 percent of college students in late 2010 were 35 or older. Fact: 7 million grandparents in 2010 had grandchildren under the age of 18 living with them.
Facts! Either you love 'em or you hate 'em, but you pay attention to them, because they sound true. Or so the U.S. Census Bureau believes. This site highlights census-based data findings and features groups of factoids in various categories, usually to coincide with a national event "recognizing" something: grandparents, hurricanes, the disabled, women's history, etc.
Fact: In 2010 there were 5 million stay-at-home mothers.
Nearly all factual statements are linked to a page detailing and/or containing the downloadable census tables that support them. (If you've never examined a US Census table, maybe you should have a few Red Bulls first.)
I've put this site here because of its fun factor. No one needs to know these things: the Census Bureau makes these facts available, going back years, because they're good filler for newspapers needing to beef up coverage of occasions and interests that purportedly unite our nation.
The site is part of the much larger Census Bureau web page that has links (Tip Sheets; Facts on the Asian Population) to all kinds of studies, findings, tools, and developments about the U.S. population and demographics. Check out Data Visualization. Look hard enough and you'll find the useful page of interactive data tools and software downloads. What more could an information wonk wish for?
Is what you just heard in your back yard an Orange-Crowned Warbler? Or was it a Ruby-Crowned Kinglet? There are lots of bird watchers in these parts. But sometimes being a bird watcher means first being a bird listener. After all, the foliage may hide the feathers, but not the call.
Bird watchers get so much extra help from sound, a lot more than snake or spider watchers, and this site is an example. Tapes, CDs, videos, apps and web sites of bird calls have been around a long time. Few people in wood and field are going to pull up a website to identify a bird call on their iPad — you never know — but your checklist may grow significantly if at home you study and remember bird calls.
Is the Common Poor-Will's song any harder to remember than "Blowin' in the Wind?"
This site has hundreds of bird calls, in copyrighted wav or mp3 format, arranged by species and orders. There is helpful, observational commentary on as well on most of the birds, much of it leading to other species or recordings.
The site is a subset of Naturesongs.com, which also provides small collections of insect sounds, as well as reptile and mammal sounds (here's a Red Poison Dart frog), and a big page on Costa Rican nature sounds. Toucans! There's a link to other bird and environmental sounds pages, some of them more interesting than this one; a link that lets you search the entire site; and a link that tells you about Telinga microphones, in case you have a spare $1200.
But it's the bird sounds page I want you to remember. Tweet it to your friends, you chicks and toms.
Who is this guy Buddy? Buddy posts a tremendous amount of autobiographical material about himself and his extended family — really a small book's worth — and yet so far I can't find his full name. Harold something... Maybe he believes it's irrelevant, and he's probably right. He'd rather talk about than identify himself.
We know he's from Brooklyn (Canarsie!) and that he was born a long time ago. As a kid he vacationed in the Catskills. His uncle Pinky was an insurance salesman. But Buddy's All About Me page — all 20 of them — is really a masterpiece of digression, ambition and detailed, self-obsessed, perilously interesting blather:
"Sharing a Bathroom;" "Playing Hide 'n Seek;" "I Wanted a Brother." It's one of the great documents of life in pre-1940's Brooklyn, and it can take him anywhere: Charlotte Russes remind him of Sergio Leone.
Much of his personal "information" is disguised as rumination, instruction, and just plain old free association. His biographical section is a disciplined daydream — all subsumed under a single link from his home page.
Buddy's non-self-centered pages are just as quirky, and just as likely to amuse and distract. There's his Columbo Episode List. His Truth About Santa Claus Page. His Smiley Dictionary. His Create a Story page. His simple primer on creating web pages with HTML. An eighth grade final exam from 1895...
There's no telling what will turn up on Buddy's eclectic pages. It's all well-meaning, harmless, and terribly sincere. He wants you to pay attention to what gets his attention. He thinks it's easy. If you don't want to, Keep Out!