calendar of events
best bets:

Things to do before the Art Fairs take over, including the Townie Party

Posted on Sun, Jul 15, 2012 : 3:33 p.m.
ENTERTAINMENT
Before the Art Fair attacks, head to the Townie Street Party in downtown Ann Arbor on Monday. 5-9:30 p.m. See three great musical acts: Ryan Racine & Gas For Less, Orpheum Bell and Steppin' In It. There will be an Art Activity Zone with free art activities for kids of all ages; a Kids Art Fair, showcasing young artist in grades 3-8 and a Townie Hall & Creative Connection tents. Located at East Washington Street, between Thayer and Fletcher, and on the Ingalls Mall. Free.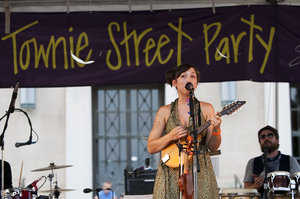 Andrew Kuhn | For AnnArbor.com
BEVERAGE
The Ravens Club Cocktail Class on Monday will focus on "Gin Says Summer." 7:30 p.m. If there's an official summer spirit, it's got to be gin. In this class you'll learn about different styles of gin and sample several different cocktails featuring this eminently mixable spirit. Classes are hands-on, with lots of tasting opportunities. $35 in advance, $45 at the door. Class is taught by Tammy's Tastings. Reserve your space at http://www.tammystastings.com/shop or by calling 734-276-3215. Ravens Club is at 207 S. Main St., Ann Arbor. 734-214-0400.
SENIORS
The Chelsea Senior Center Golf Outing will be held at Reddeman Farms Golf Club on Tuesday. Registration starts at 8 a.m. Shotgun start at 9 a.m. $70, includes breakfast, lunch, dinner and prizes. Must be 50 or over to play. Contact the Chelsea Senior Center at 734-475-9242 or www.chelseaseniors.org for information. The Golf Club is at 555 South Dancer Road, Chelsea. 734-475-4655.
OUTDOORS
The Seventh Annual Rolling Hills Youth Day will held on Tuesday. It is completely free to all high-school aged youth throughout the county. There will be volleyball, disc golf, soccer, football, shirts to tie-dye and food. If you're interested in participating, you must visit www.tcw2.com to register and receive your free parking pass. Rolling Hills is at 7660 Stony Creek Road, Ypsilanti. 734-484-9676.
STORYTELLING
"The Moth: Live Storytelling" comes to Circus Bar & Billiards the third Tuesday of every month. Doors open at 6 p.m., stories begin at 7:30 p.m. Circus will be open after the show. Moth shows are renowned for the great range of human experience they showcase. Each show starts with a theme, and the storytellers explore it, often in unexpected ways. This week's theme is "judgement." $5. 210 S. First St., Ann Arbor. 734-332-9900.
MUSIC
The Gandy Dancer Courtyard Jazz Series continues Wednesdays through September 19. 6-9 p.m. This week, see Ellen Rowe Quartet. The Gandy Dancer will offer its special Courtyard Menu, which features mid-priced sandwiches and appetizers. No cover. The Gandy Dancer is at 401 Depot St., Ann Arbor. 734-769-0592.
MUSIC
The Ann Arbor Civic Band will end its Summer Concert Season at the West Park Band Shell on Wednesday. 8 p.m. Enjoy great music in the great outdoors. This week will be the "Big Band - Season Finale." William Gourley conducts. Free. West Park is at 215 Chapin St., Ann Arbor. 734-994-2780.