The New Theatre Project offers 'The Mute Quire'
Posted on Tue, Jun 19, 2012 : 8:54 a.m.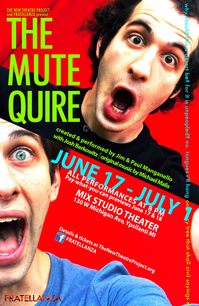 Fratellanza, a new collaboration between Michigan brothers Jim and Paul Manganello, has created a new show for Ypsilanti's New Theatre Project, imagining the circumstances around the creation of Shakespeare's First Folio: "The Mute Quire" runs through July 1 at Mix Studio Theater, 130 W. Michigan Ave. in Ypsilanti.

The show has two forgotten actors; a printer and his apprentice; and an absurd clown and a sad one. All these characters collide in a print shop to publish the plays of the recently dead Shakespeare. Before ink meets paper, they're battling over the soul of poetry, drama, and nonsense. Using verse and movement, Fratellanza transforms history into a living celebration of love.

Fratellanza is committed to generating live theater with physical rigor and imagination, and "The Mute Quire" is its first production.

Showtimes are Friday-Sunday at 8 p.m., June 22-July 1, at Mix Studio Theater, 130 W. Michigan Avenue in Ypsilanti. For tickets ($15; $10 for students/seniors/industry), visit www.thenewtheatreproject.org. BIOGRAPHIES

Jim Manganello (co-creater and performer) graduated from the University of Michigan, where he directed "Richard II" and "Measure for Measure" for the Rude Mechanicals and "The Goat or, Who is Sylvia?" and "Equus" for Basement Arts. Since 2009, he's worked in Chicago at theaters such as Redmoon, Next, Writers', and Remy Bumppo. Most recently, he directed his own movement-theater adaptation of War and Peace at Chicago's Viaduct Theater in May 2011.

Paul Manganello (co-creator, performer) is a writer and actor and a recent graduate of the University of Michigan, where he appeared in plays with Rude Mechanicals and Basement Arts. In April 2011 he wrote and performed "Zealous Whig," a one-man show about the Italian revolutionary Filippo Mazzei. He has designed video projections for "Richard II," and recently, "Machinal."