play preview
Evergreen 'The Fantasticks' coming to Dexter's Encore Theatre
Posted on Sun, Sep 23, 2012 : 5:45 a.m.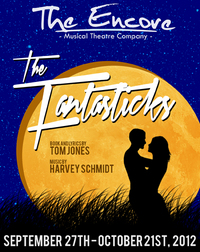 The hugely successful musical "The Fantasticks," is about a seemingly pre-destined relationship; and in a way, the upcoming production of the show at Dexter's Encore Theatre feels somehow inevitable, too.

For the stylized show emphasizes theatricality (perhaps best exemplified by an actor who depicts a wall) and eschews fussy sets and costumes, focusing instead on the show's book and music—which is precisely what Encore co-founder Dan Cooney set out to do.

"(Encore's) often done what Dan describes 'unplugged musical theater,'" said director Bart Bund. "Bigger shows are often scaled down to fit the space they're in, and they don't mic the actors. This show is a little different from what they usually do there, in that we have a smaller cast, and the way we've looked at it is, it's a musical for actors, because it's all about these relationships."

"The Fantasticks" will mark Bund's first show with Encore.

"When Dan Cooney announced that he'd be away for the year for (the Broadway production of) 'Mamma Mia,' the people at Encore started looking around," said Bund, known for his work with the Blackbird Theatre Co. " … I was doing some podcasts with Dan at the time, and we hit it off, so he asked me to submit something. I proposed a concept for the show, they were on board with it, and that's how it started."
PREVIEW
"The Fantasticks"
Who: Encore Musical Theatre Company.
What: Written by Tom Jones and Harvey Schmidt, "The Fantasticks" tells an allegorical story of coming of age, young love and meddling fathers, and played continuously off-Broadway for a record-breaking 42 years, making it the world's longest running musical.
Where: Encore Theatre, 3126 Broad St. in Dexter.
When: Thursday at 7 p.m., Friday at 8 p.m., Saturday at 3 and 8 p.m., and Sunday at 3 p.m., Sept. 27-Oct. 21.
How much: $28-$32, with discounts available for seniors, youths, and groups of 10 or more. (One discounted preview performance, on Thursday, September 27 at 7 p.m., offers tickets for $18.) To order, call 734-268-6200 or visit www.theencoretheatre.org.
The storied show—which ran 42 years continuously Off-Broadway, making it the world's longest running musical—has music by
Harvey Schmidt
and lyrics by
Tom Jones
, and tells the story of young Matt and Luisa, who grow up next door to each other and, with a push from their fathers, fall in love. But when the two resist their seemingly prescribed fate, and each ventures down a different path, there's no telling where they'll end up.
"It's such an amazing show," said Bund. "My idea was not to reinvent it, but just to create a production as lovingly as I could. What we've come to now is, these are players who've landed in a theater, and they've hijacked it, in a positive way, to put on their play. … They're coming into a space where the set built for something entirely different, like a Tennessee Williams with a kind of new Orleans setting. … It's fun, and it's born our of own experiences with running a theater company of limited means, where you're doing your stuff wherever you can."
Bund's production stars Tobin Hissong, Paul Hopper, Jamie Weeder, Thalia Schramm, Brian Thibault, Ryan Dooley, Gayle Martin and Keith Kalinowski.
And one element that makes Encore's "Fantasticks" production distinct from others is that it's less male-dominated (usually, Luisa is the only female on stage). For starters, Bund has a woman (Martin) playing the part of the wall that separates the young lovers.
"These are young people whose mothers have passed, so a woman between them creates a kind of ghostly presence there, of the mothers that they still think of, though mothers are never mentioned," said Bund. "And there are other, extra places where we have women in the show, and it provides a new dynamic to this otherwise very male show. … So that's interesting. It's added some different, more female energy into the show, which I hadn't seen before."
The show's inherent theatricality is part of its draw for Bund, but it's also the way the story is told, both in words and in music.
"The book and the lyrics are one and the same," said Bund. "They just belong together. It's not just a bunch of songs, with a musical written around it. The two things are organically threaded together."
Lastly, Bund also appreciates the way the show uses a garden as an illustrative metaphor. "With a garden, you plant a seed, tend to the garden, and you have an expectation that it will grow and become one thing," said Bund. "The show spells out this metaphor so clearly. But when children grow, we're constantly surprised at what comes of that. Now that I'm a parent, I feel like it's a lovely way of looking at growing up. One of the thrills of parenting is finding out who (your children) are.
"… It's hard to explain the show outside the show. If you try to explain the show in a few sentences, it's very difficult. It's a love story, it's a coming of age story, it's an adventure—but all of that's just scratching the surface. It's about love and life and all sorts of things."