Lie to Your Cats About Santa
the deuce:

43 things to do at the Kerrytown Market & Shops that aren't the farmers market

Posted on Tue, Oct 19, 2010 : 2 p.m.
Kerrytown Market & Shops | Photo by Richard Retyi

Townies know about Kerrytown and the Kerrytown Market & Shops but I don't think enough people appreciate what they have. The Kerrytown Market & Shops are like the Briarwood Mall with better food and less sadness. Sparrow Meat Market instead of Cinnabon. Mudpuddles toys instead of Hot Topic. Hollander's rather than the vacant space where Borders Express used to be.

You can spend an entire afternoon in this one big building and fail to get bored (I'm not even including the Farmer's Market, the Artisan Market or the places within spitting distance of the Kerrytown M&S). To put my theory to the test, I did just that, spending an afternoon with a backpack, a camera and a notebook wandering the shops and trying not to make eye contact with teenage ruffians from Community High School. Here are 43 things to do in the Kerrytown Market & Shops.

1. Scavenger hunt! Kerrytown was named in honor of Marie O'Leary Sullivan, born in County Kerry, Ireland. Can you find the plaque commemorating Mrs. O'Leary Sullivan?

2. Spend 20 minutes in Hollander's.

3. Hollander's is Ann Arbor's premier paper, notebook and stationary supplier and the only bookbinder in the area that I'm aware of. It's three floors of excellence — postcards, decorative paper, notebooks, pens (oh glorious pens!) and my favorite — tons of note cards and envelopes. I'm a big believer that people should really send more things by post. (Mail me a letter or postcard to: Richard Retyi care of AnnArbor.com, 301 E. Liberty St., Suite 700, Ann Arbor, MI 48104 — and I promise I'll write you back!).

4. The main floor covers your paper needs and the basement is for bookbinding. Hollander's holds workshops on binding techniques, book structures and different methods of printing. They've also gotten into the cooking and kitchen wares game which takes up a lot of the top floor, but I'll take a notebook covered in piranhas over a cast iron skillet any day.

The Kerrytown Bells | Photo by Richard Retyi
5.
Read the community cork board outside Hollander's. It's outstanding, loaded with business cards and promotional materials, a high proportion of which are for piano lessons and life coaches.
6. Hire Colors the Clown out of Manchester for your big-top themed graduation party!
7. Scavenger hunt, part 2. Find the award-winning Jack and the Beanstalk mural on the north side of the building. It runs from the floor all the way to the top of the three-story roof.
8. Take a picture with the beanstalk where you're fake-climbing it. See! THIS is why I traded our cow for magic beans, MOM! Get off my back!
9. Get a seasonal coffee beverage and dessert Sweetwaters Coffee and Tea.
10. Sit outside Sweetwaters (while you can) and enjoy the fall weather while watching me school artsy independent-thinking Community High School students on the basketball court across the street.
11. Call an ambulance when I fracture my tibia.
12. Close your eyes and open your nose at Durham's Tracklements and Smokery.
13. The New York Times called Durham's salmon the best of the best in 20 years of tasting. It smells like my family's cottage up north, which is a good thing. A fishy/lake smell with hints of burning wood. Magical. Durham's sells salmon prepared in a number of ways — pecan wood smoked, Thai, sea salted, twice smoked, kippered — but they also offer rainbow trout, sable, mackerel and cod. Durham's is only open Wednesday, Friday, Saturday and Sunday, but it's well worth dropping by, even if just to smell the place.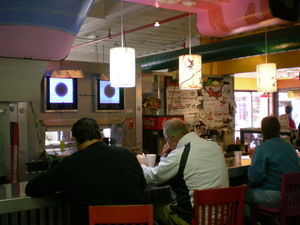 Kosmos for lunch / photo courtesy of Richard Retyi
14. Blast your quads at Sparrow Gym. But you already knew that.
15. Do 15-ball slams on each side with the 25-pound medicine ball.
16. Try to hold in your farts while doing ab twists.
17. Keep it together at Everyday Wines. The sales person refused to name me the perfect wine for that very moment unless I provided additional information. She vowed to find the perfect wine for anyone — servicing the perfect day, time and need. Wednesday night dinner party? Romantic date with a paralegal on Saturday? Just got fired from the Food Co-Op and have some time to kill before your dad picks you up? They have the perfect wine for you!

18. Try not to write too conspicuously in your notebook when you see that they sell shatterproof wine glasses.
19. Shop for tiny clothes at Elephant Ears. The children's boutique offers ruffled skirts in four colors for her and a triceratops t-shirt for him — or vice versa — I don't need to adhere to traditional gender roles either!
20. Check out the second floor of this place. It's huge and reminds me of a chalet.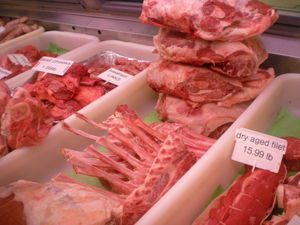 Sparrow Meat Market / photo courtesy of Richard Retyi
21.
Burn your Kroger card and switch to
Sparrow Market
.
22. Sparrow Market is a deceptively comprehensive food provider. The highlight is the Sparrow Meat Market showcasing fat cuts of bacon, nearly three-inch thick pork chops, Portobello stilton burger patties the size of a gorilla's fist, steaks, lamb chops — I just drooled all on my laptop. It also sells fresh produce, Zingerman's bread and made-to-order breakfast and lunch sandwiches like the Morning After (a bagel with cream cheese, bacon, apple and maple syrup) and the HDC (a sandwich with prosciutto, mozzarella, olive-mushroom tapenade and mixed greens).
23. Buy your coffee here too: Roos Roast or Mighty Good. It's win-win.
24. Relax in the courtyard between the Sparrow Meat Market and the Sparrow Gym. Neat benches and practical tables, perfect for reading a book, eating lunch or chatting.
25. Nap. You've earned it.
26. If you can tell me what the giant red silo-cone in the parking lot outside Hollander's is I'll give you a hug.
27. Eat lunch at Kosmos - my favorite lunch counter in Kerrytown. Get the Bi Bim Bop (your choice of four veggies!).
28. Grab a booth and eavesdrop on ridiculous conversations being had by Community students. Oh, youth!
29. Visit the Spice Merchants and see what the Dutch and Portuguese got all worked up about way back when with their tall ships and cannons. Hundreds of herbs and spices - some pedestrian and some exotic (what the heck is cumin!?).
30. My purchase — cheddar cheese powder (they also have feta and Romano). Make the classiest mac and cheese this side of Rotterdam! Just don't let anyone with the last name Hoogeveen learn of your actions or you'll have a fleet of Dutch frigates turning broadside maneuvers on you in no time!
31. Make old timey Spice War references. I did just a few sentences ago. An AnnArbor.com FIRST!
32. Everyone loves a toy store, especially when it's called Mudpuddles. Check out the Hex Bugs. Like Zsu Zsu pets for kids into nanotechnology, the Matrix and Michael Crichton novels.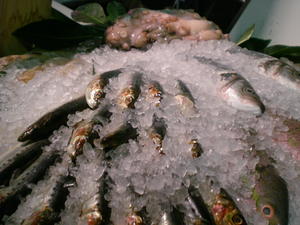 Some of my pals at Monahan's Seafood / photo courtesy of Richard Retyi
33.
Eat the sea at
Monahan's Seafood Market
. Serving fresh seafood since 1979 — Monahan's (they have t-shirts for sale) offers a delicious lunch menu including sandwiches, chowder and great-looking sides.
34. Monahan's does that classy thing where they pack the fish in ice out in the open. Post a few pictures to Facebook and ogle the squid.
35. Watch them split giant fish heads behind the counter using a cleaver and a bat. Nature!
36. Play the Kerrytown bells from Wednesday to Friday (noon to 12:30 p.m.) or try your luck in front of the big crowds on Saturday (10:30 a.m.-11 a.m.).
37. Edelweiss for purists, something more majestic like John Williams's Star Wars theme for showoffs.
38. Scavenger hunt, the revenge! Find the Luick Carriage Block, unearthed during construction on Depot Street in 2006. It was used by one of the Gottlob brothers to help ease passengers into horse drawn carriages back in the day.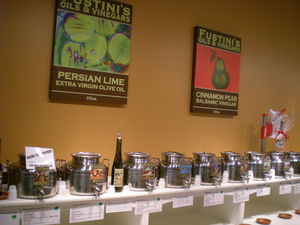 Fustini's / photo courtesy of Richard Retyi
39.
Visit
Fustini's Oils and Vinegars
 — one of the prettiest shops in Kerrytown.
40. Sneak a baguette in your knapsack and sample delicious olive oils blended with blood orange, sage and wild mushroom, chipotle and pomegranate. They've also got an 18 year-old balsamic vinegar that nearly made me cry.

41. Yamamoto for sushi.
42. Eve for fancy food.
43. Browse the Found Whimsical Art and Vintage Treasures shop on the second floor. They've got cool old toys and distressed furniture, along with baskets woven from old issues of the Ann Arbor News. Too soon?
There you have it — 43 things to do in the Kerrytown Market & Shops and I didn't even mention the women's clothiers (V2V Apparel and Mathilde's Imports) I was too embarrassed to walk into. Check these places out next time you're in the neighborhood and I promise you won't be disappointed.

(Richard Retyi writes the bi-weekly-ish column "Lie to Your Cats About Santa" and needs to buy a much nicer camera if he's going to keep taking pictures to accompany his stories. He enjoys correspondence, correspondence courses and the Wu-Tang Clan. Email him your pet peeves at richretyi@gmail.com and as always read more of his work here.)