calendar of events
Best Bets :

Lots to do this weekend, including the start of Top of the Park

Posted on Thu, Jun 14, 2012 : 2:57 p.m.
MUSIC
You have no excuse to not see "No Excuses" at the AnnArbor.com Summer Concert Series on Friday. Noon-1 p.m. Bring your lunch and enjoy the sounds of summer. This local Ann Arbor band plays a mix of original music and covers ranging from classic rock to folk to pop. Free. On the patio on the corner of South Fifth Avenue and East Liberty Street in downtown Ann Arbor. Read more about it here.
ENTERTAINMENT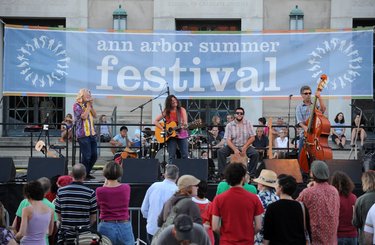 File photo | AnnArbor.com
It's finally here! Top of the Park starts on Friday at the Ingalls Mall. 5 p.m.-midnight. The popular outdoor component of the Ann Arbor Summer Festival combines live music, movies, DJs, food booths, socializing and special attractions. Go to
http://www.annarborsummerfestival.org/
for a complete schedule. There is a suggested donation per visit of $3 per individual or $5 per family. The Mall is at 915 E. Washington St., Ann Arbor.
THEATER
Get more Shakespeare in the outdoors when Blackbird Theatre presents "MacBeth" in the West Park Band Shell. Fridays & Saturdays through June 30, at 7 p.m. A prominent and loyal military leader is corrupted and driven to murder. When a trio of witches issue him a dark prophesy, his dark ambitions lead to his brutal destruction. Contains violence, sexuality, and adult themes intended for mature audiences only. $15. $10 for students. Buy tickets at the door. Cash or check only. West Park is at 215 Chapin St., Ann Arbor. 734-994-2780. Read the preview article here.
MUSIC
The annual "Great Lakes Chamber Music Festival Minifest" returns to the Kerrytown Concert House. Friday, 8 p.m. Friday, June 22, 8 p.m. Sunday, June 24, 2 p.m. This year's festival theme, White Nights, will highlight composers of Russian and Scandinavian descent, including Stravinsky, Prokofiev, and Rachmaninoff. Go to www.kerrytownconcerthouse.com/ for more information. Ticket reservations are strongly recommended and are available by phone at 734-769-2999 or online. $5-$30. Guests receive and pay for tickets at the door on the evening of the performance. The KCH is at 415 N. Fourth Ave. Ann Arbor. 734-769-2999. Read the preview article here.
FOOD
There will be a "Depot Town Strawberry Showcase" on Saturday in Ypsilanti to get people to think local first. 11 a.m.-2 p.m. Take a self-guided tour through Depot Town to sample a strawberry food item at each location. The tour begins at the Depot Town Farmers' Market, then to Harvest Kitchen, Ypsi Food Coop, and ending at The Corner Brewery. Pick up a "passport," have it stamped at all four locations and then enter to win a $25 gift certificate from each business. Free. The Farmers' Market is at Rice and Cross streets. 734-665-2919.
MUSIC
The legendary Texas trio, the Flatlanders, return to the Ark on Saturday. Separately, they're Jimmie Dale Gilmore, Joe Ely and Butch Hancock, but together they're a Texas supergroup. Lately they've begun playing occasional shows, imbued with a new sense of what they shared and of what each member brings to the table. $35. The Ark is at 316 S. Main St., Ann Arbor. 734-761-1800.
SPORTS
Watch the "Ann Arbor Marathon" on Sunday. All courses start on Main Street at the mprthwest corner of the Big House and running through downtown Ann Arbor with a finish on the 50-yard line of Elbel Field. Free for spectators. Visit theannarbormarathon.com/ for more information. Read about its creation here.