concert preview
Taylor Mac uses drag, performance art to examine dangers of comparison
Posted on Mon, Jun 27, 2011 : 12:41 p.m.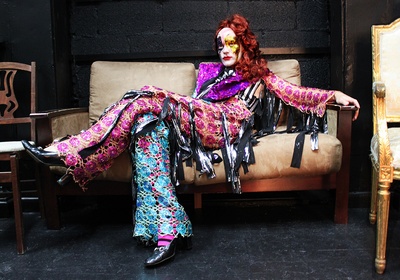 If you're looking for something from the Ann Arbor Summer Festival that's a bit out of the mainstream, Taylor Mac will probably fill the bill. Drawing from the traditions of drag and performance art, Mac will offer his show, "Comparison Is Violence or The Ziggy Stardust Meets Tiny Tim Songbook," Saturday night at Lydia Mendelssohn Theater.

"Comparison is Violence" was born, he said, after reviewers wrote that he resembled a cross between David Bowie's alter ego Ziggy Stardust, and the ukulele-playing cult figure Tiny Tim.

"Journalists /reviewers tend to do that, tend to find some pop culture reference to describe you in order to get people to understand what you're doing, to give them context," Mac said in a phone interview from his Manhattan home base.

At first he was annoyed, but then he said he realized that there was the basis for a show in what the reviewers were saying.

"I realized that comparison is this thing that's so prevalent in our lives and yet we don't really talk about it that often. … So I thought, let me be one of the people who tries to springboard a conversation about this."
PREVIEW
Taylor Mac: "Comparison is Violence"
Who: Larger-than-life performer, presented by the Ann Arbor Summer Festival.
What: An original conversation about comparison with Tiny Tim songs and selections from David Bowie's classic glam-rock album "The Rise and Fall of Ziggy Stardust." Recommended for mature audiences.
Where: Lydia Mendelssohn Theatre, 911 N. University Ave.
When: 8 p.m. Saturday, July 2.
How much: $25. Available at www.annarborsummerfestival.org
Raised in Stockton, Calif., Mac, 37, graduated from high school in the early '90s and decamped to San Francisco at age 17, where his first professional gig was in the long-running camp musical "Beach Blanket Babylon." He also played, among other things, a dancing poodle for 8 months before moving to New York.
Combining dramatic flair, satire, honesty, and—of course—plenty of glitter, Mac's current show is an original conversation about comparison, which he offers while singing Tiny Tim songs and selections from David Bowie's classic glam-rock album "The Rise and Fall of Ziggy Stardust."
"I wanted to create a cabaret where we could talk about something that's not as heavy as what I usually talk about in my shows—I usually talk about family dynamics, the war on terror, big political things that are happening, or gay marriage, or traditions and myth," he explained.
Still, he added, there is a message. "What the show is partially trying to do is to get the audience to consider the ways we use comparison. I've found comparisons are often used as ways to reduce a complex person or happening into something easily consumable.
"An example of that politically is (how) socialism is getting compared to communism all the time, equating the two of them, and they're not the same thing. So what happens is, because somebody has an agenda to destroy socialism, they compare it to communism because more people think communism is evil than socialism. So now more people are thinking socialism is evil. But when you actually look at socialism, it's not evil. It may not be what we want for our country, but it's not this evil thing."
He brings the point down to a personal level as well.
"It can be just as simple as somebody saying "You're just like so and so' when what they are really saying is 'You're not as special as you think you are.' They're saying 'You copied that person,' or 'This didn't really come from you, this isn't an original thing.' Of course it's not an original thing! There's nothing original, I don't care what they say. It's all coming from something else. There's nothing new, there's only something that's new to you.
"I feel like so much of our lives we are told were supposed to be one thing … we have to be 'a man,' or 'a good person.' We have to be 'No. 1'—everything is reduced to one thing you're allowed to be. I feel like as humans we are many different kinds of things all squished together, and so I want to allow my audience to see the range of who they are, and to feel as many different emotions as they possibly can while they are in the theater."
A recent Village Voice story referred to Mac as a "drag artist," and although his show goes beyond what most people consider drag, he said he's fine with the description.
"I embrace all adjectives and pronouns. You can call me 'he' and 'she' and 'it,' whatever you want," he allowed. "And you can all me a drag artist, because I think that drag is much more complex than people think. At it's most complex, it's RuPaul or Dame Edna, at it's least complex it's just somebody lip-synching to Cher songs dressed like Cher.
"Drag has been around for centuries. … I think drag queens are awesome and amazing. But I am also a playwright, also a singer, also a theater artist and I am also a drag queen. But I am a theater artist more than anything else," he added.
He cites the late Ethel Eckelberger and Charles Ludlam as influences, along with transgender American singer-songwriter Justin Bond and New York-based performance artist Penny Arcade.
Mac, whose colorfully flamboyant outfits and elaborate makeup make Lady Gaga look like a Sunday school teacher by comparison, said he used to design his own costumes but now, in the interest of best use of his time, he jobs it out to a designer friend named Machine who also designs for club and burlesque performers in New York.
One of the prerequisites? "It has to sparkle," Mac laughed.