concert preview
Talib Kweli bringing his socially conscious hip-hop to the Blind Pig
Posted on Tue, May 29, 2012 : 5:21 a.m.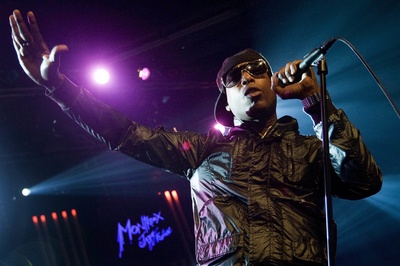 AP

Don't bother call Talib Kweli a "conscious" rapper.

As he sees it, he's just another guy doing his job.

Sure, the Brooklyn-based artist, who appears June 2 at the Blind Pig, sets himself from the 50 Cents of the world thanks to an aware, philosophical approach to his craft.

But he Kweli has no desire to be pigeonholed—even if it's positive.

"Being called a 'positive, uplifting, conscious, underground' artist, those are all great things," Kweli recently told the website NY1.com. "But as great as those things are, I cannot possibly let them define who I am as an artist."


PREVIEW
Talib Kweli
Who: Brooklyn rapper. Also with Slum Village; J. Pinder; Barefoot Sneaker; Slaves.
What: Socially conscious hip-hop.
Where: Blind Pig, 208 S. First St.
When: 9 p.m. (doors) Saturday, June 2.
How much: $25 advance/$28 day of show.
Of course, the fact that most of his contemporaries rap about the thug life, while his songs are more spiritual and socially conscious, has contributed to this reputation.
So has his background. Kweli is the son of college professors and his first name translates from Arabic to "Seeker of truth."
Fitting, right?
"I'm the perfect blend of my parents," he said. "My father is a professor in sociology and my mother is a professor in humanities and English language.
"And you put that together with Brooklyn, and you have hip-hop."
But despite access to an elite educational opportunities—including attending boarding school in Connecticut—Kweli gained most of his knowledge himself thanks to a voracious reading habit.
After a brief stint at NYU, Kweli, worked at a book store and began hanging around with a new crop of New York City, rappers, decided that he'd had enough of school and was ready to set out on the journey that would establish him as one of the world's premier rappers.
In 1998, he formed Black Star with his childhood friend, Mos Def. The band established both Kweli and Def as vital, young artists, both a cut above the gangsta-caricatures and poses of many of their contemporaries.
Five solo albums—and countless guest appearances, including a guest shot on Kanye West's hit "Get 'Em High—have followed, each increasing Kweli's profile. A seventh full-length, "Prisoner of Conscious," is set to drop later this summer.
Meanwhile, Kweli's skills as both a wordsmith and a rapper, have been recognized not only by his own rabid fan base, but also by the crown prince of hip-hop himself, Jay-Z.
"If skills sold, truth be told, I'd probably be, lyrically, Talib Kweli," Jay-Z said in his 2003 number, "Moment of Clarity."
Kweli, now 37, remains nonplussed by his emergence as one of the genre's most-formidable and, whether he likes it or not, conscious, artists. Rather, he approaches his craft much like his parents approached their daily jobs in academia.
"It would be nice to be rich and famous, but early in my career I professed to not care about being rich or famous and my life is played out that way because I didn't really care about it," he said. "I'm not rich and famous. I'm a very successful working-class artist and who makes a living doing what I love and what I feel like is the secret to life and I couldn't be happier doing that."