Paul Wiener | A Head in the Cloud
Column:

This Week's Web Picks: where we worship movies; religion-by-numbers; re-visualizing images

Posted on Sat, Oct 20, 2012 : 5 a.m.
This is the next in a series of columns about interesting and useful websites.
Everyone loves movies. Not everyone loves movie theaters, especially those old, ornate ones that generate monstrous heating and cooling bills. Why would they, when TVs, laptops, mobile devices and tablets are the rage and leave no visible carbon footprint?
Nevertheless, people still go to movie houses, and they still remember them. Many of them once looked like houses — temples, cathedrals — of worship, and in a way they were. They even had architects. And not only in Ann Arbor, where the magnificently restored, iconic Michigan Theater (with its Barton Organ) awes us like an old spaceship. People in Singapore, in Johannesburg, in Buenos Aires, and in Ballarat, Australia also have movie theatres worth looking at. Or had. Once they were palaces.
This site celebrates those old theaters, and many new ones, too — 30,000 of them. With photographs, videos, descriptions, memories, and a blog, a world where movies put you in their pocket, not the other way around, is remembered. Even new theaters become part of this world, where movies are experiences requiring and occupying the entire body, not just eyes and fingers.
And speaking of bodies, let's not forget the drive-ins (there's one not far away in Manitou Beach with a religious orientation). A Preservation Alert tells us which theaters are soon to be demolished, or preserved, or asks for support in saving them. And some are saved — the State Theatre in Traverse City was one. The Orpheum in New Bedford, MA hopes to be another.
The site's strength, though, is its huge collection of photographs - of theater exteriors, posters, promotional materials, interiors — offered via browsable, descriptive links — that make it easy for you to find how blueprints translated dreams into the universal language of moving pictures.
Religion so often is at the heart of conflict between groups large and small that we tend to forget just how many of them there are, and how many people are involved. The Religion Data Archive makes it impossible to remain unaware of the numbers.
There were 747 Seventh Day Adventists in Washtenaw County in 2010, and 62 Mennonites. Yet the tables and counts don't mean everything, since most of them break into countless denominations, memberships, congregations and affiliations that add up differently with every survey. "Mormon" isn't even listed as such in many surveys. (Atheists, by some estimates possibly one-fourth of the globe's population, don't figure in at all.) Still, finding and comparing numbers can be addictive, and adapted to all kinds of scholarly, political or nefarious uses.
What country do you think has the most Confucians? How does the percentage of Muslims compare in the populations of Sweden and Denmark? Look at the U.S. mapped by density of Catholic congregations. However a deity is worshipped, nearly 45 percent of Americans don't think "he" is male. Twenty-seven percent of believers pray several times a day; 11 percent never. More Republicans than Democrats believe in angels.
How many mainline Protestants are there in Apache County, Arizona? How many Jews, Baha'i or Friends in Blount County, Alabama?
Though you can find endless numbers, the archives aren't really that easy to use: It can be easy to cherry-pick the facts, but hard to bake them into a tasty pie. Many of the same survey counts come from different organizations or years, and use differing methodologies and classifications. There are surveys concerning morality, history, demographics, politics and practices.
Some of the links simply go to well-known survey reports, texts and raw data, which then have to be searched, downloaded or interpreted. Using this website responsibly and intelligently takes as much work as using it skeptically or maliciously. Whatever you believe, the data on religion can make you wonder how any of us manage, at the end of the day, to have anything in common.
OK. So maybe religion is too risky for this column to deal with. When Salman Rushdie publicly made fun of the wrong religion, Ayatollah Khomeini put a price on his head. Well, try taking this website the wrong way. Or even the right way.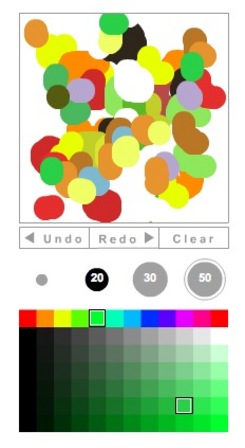 It's hard to imagine that Retrievr serves any purpose at all, but you want to keep testing... This web app is all about color, shape and interactivity. It's an algorithm in living color, kind of like a fractal generator. You "draw" your own design in the box, or you import any photo of your choice, and the app matches the composition and color to "Interesting" images in the vast, popular photo repository that is Flickr.com.
It gets it right some of the time — that is, the composition vaguely matches — but it tries, it tries, and the results can be surprising, even pleasing. You can even email your drawings and results.
Why does it do this? Is it ever useful? I don't know, and I don't care. Somebody somewhere someday will find it useful, rest assured. Or so Christian Langreiter hoped in 2006.
I suspect that the app was a way the designer had of showing off System One, the technology and product behind the app. It's one of many startups that wants to meld social networking and business productivity tools into seamless new apps that eliminate work and expense and discover emergent trends. I wish them well. Meanwhile, let's just enjoy their experiment and watch for their lightbulb moment.