concert preview
with video:

StarKid Productions bringing Apocalyptour show to its original home base

Posted on Thu, May 31, 2012 : 10:49 a.m.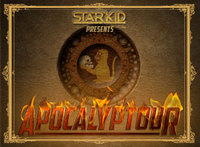 StarKid Productions—the Chicago-based theater troupe born at the University of Michigan, where student performers shot to online fame via their original video "A Very Potter Musical"—returns to Ann Arbor on Monday, June 4 as part of the company's month-long, 21-city concert tour, titled Apocalyptour.

Though Ann Arbor was the first stop on the troupe's Space Tour last November, the company's former home base will play host to a show near Apocalyptour's end (a sold-out show in New York City's 3,500 capacity Roseland Ballroom on June 10).

How will the Apocalyptour show differ from what fans saw on the Space Tour?

"The Space Tour was really just a music revue, where we just did songs from our shows," said director Julia Albain. (StarKid also had viral hits with "A Very Potter Sequel," a musical called "Me and My D***," and "Starship," a Chicago-staged show with music and lyrics by StarKid member and "Glee" star Darren Criss. Their most recent stage project—now available on YouTube—is called "Holy Musical B@man!")

"This time, we wanted to shape (the concert show) more and add a theatrical element, so there would be a story to it. Plus, there are songs that we rarely did before, and new music and new arrangements, and scenes and stories that tie it all together."
PREVIEW
StarKid's Apocalyptour
Who: Chicago-based theater company that was born and found online fame at the University of Michigan.
What: A concert that promises new songs and new cast members from those seen on Starkid's Space Tour.
Where: Michigan Theater, 603 E. Liberty St.
When: Monday, June 4 at 7:30 p.m.
How much: $30-$35, with limited VIP tickets available. To order, visit www.ticketmaster.com, or call 1-800-745-3000.
Plus, there are two new additions to the performing lineup:
Jim Povolo
and
Brian Rosenthal
will join
Jaime Lyn Beatty, Brian Holden, Lauren Lopez, Joey Richter, Dylan Saunders, Meredith Stepien,
and
Joseph Walker
. They will be accompanied by a five-piece band of
Charlene Kaye
(guitar),
Clark Baxtresser
(keyboard),
Megan Cox
(keyboard),
Dave Scalia
(drums), and
Tomek Miernowski
(bass).
And unlike the Space Tour, Apocalyptour features West Coast stops. (The day of Albain's interview, Starkid had just wrapped 3 shows in Los Angeles—which, along with the New York City, are the only shows in which Criss will appear—and was on a bus headed to San Francisco.)
In terms of what Starkid learned from their first tour, "a lot of it is just about the logistics of being on the road—doing it more efficiently, and adjusting our material to concert venues, which is not our first nature," said Albain. "A lot just involves the mechanics of touring. … Learning how and when to schedule the shows, how to make it so the load-in and load-out goes smoothly, merchandising—these are all things we've had learn to do on our own."
The nature of StarKid's online fame, of course, makes for an odd dissonance: the performers are greeted in cities across the country by passionate, wildly enthusiastic fans who know every word to their songs; but they otherwise go unnoticed, working rather unremarkable day-to-day lives. (In February, The New York Times Magazine featured a short piece on this topic, focusing on "Very Potter" performer Joe Moses.)
"We get a very amplified experience," said Albain. "When it's all that we do, and we're on tour, we're showing up to venues where fans are waiting for us. And online, we all joke about going back to real life when tour ends—when we go back to nannying or whatever. That's just how it is."