movies roundup column
cinema chat:

'Spider-Man' reboot, Katy Perry, 'Yellow Submarine' and more at the movies

Posted on Thu, Jul 5, 2012 : 5:52 a.m.
Win free movie tickets

Editor's note: Comment on today's "Cinema Chat" for a chance to win free movie tickets to the Michigan Theater. Some time between now and 9 a.m. Monday, leave a comment on this column. Offer your opinion on a recent movie you've seen, or on anything the column mentions. A winner will be randomly selected, and we'll notify that person via the email address they signed up with. They will get two passes to a movie of their choice, courtesy of The Michigan Theater. Full rules here.

Note: This week's "Cinema Chat was" prepared by Amanda Bynum and Brian Hunter, the film programming team at the Michigan Theater.

Opening at the multiplex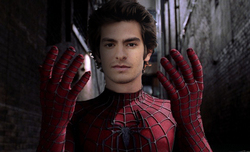 "The Amazing Spider-Man" is the story of Peter Parker (Andrew Garfield), an outcast high schooler who was abandoned by his parents as a boy, leaving him to be raised by his Uncle Ben and Aunt May. Like most teenagers, Peter is trying to figure out who he is and how he got to be the person he is today. As Peter discovers a mysterious briefcase that belonged to his father, he begins a quest to understand his parents' disappearance—leading him directly to Oscorp and the lab of Dr. Curt Connors (Rhys Ifans), his father's former partner.

As Spider-Man is set on a collision course with Connors' alter-ego, The Lizard, Peter will make life-altering choices to use his powers and shape his destiny to become a hero. Claudia Puig of USA Today says, "As a new chapter in the superpowered arachnid saga, it stands on its own quite nicely, focusing more on human emotions than on a panoply of special effects." "The Amazing Spider-Man" opened Tuesday.

A 3D motion picture event movie, "Katy Perry: Part of Me" is a backstage pass, front row seat and intimate look at the fun, glamorous, heartbreaking, inspiring, crazy, magical, passionate, and honest mad diary of Katy Perry. "Katy Perry: Part of Me" opens today. In "Savages," Laguna Beach entrepreneurs Ben (Aaron Johnson), a peaceful and charitable Buddhist, and his closest friend Chon (Taylor Kitsch), a former Navy SEAL and ex-mercenary, run a lucrative, homegrown industry: raising some of the best marijuana ever developed. They also share a one-of-a-kind love with the extraordinary beauty Ophelia (Blake Lively). Life is idyllic in their Southern California town...until the Mexican Baja Cartel decides to move in and demands that the trio partners with them. When the merciless head of the BC, Elena (Salma Hayek), and her brutal enforcer, Lado (Benicio Del Toro), underestimate the unbreakable bond among these three friends, Ben and Chon—with the reluctant, slippery assistance of a dirty DEA agent (John Travolta)—wage a seemingly unwinnable war against the cartel. Justin Chang of Variety says, "The disreputable Oliver Stone of old makes a largely welcome reappearance." "Savages" opens Friday, July 6. Opening downtown

"To Rome with Love" is a kaleidoscopic comedy movie set in one of the world's most enchanting cities. The film brings us into contact with a well-known American architect reliving his youth; an average middle-class Roman who suddenly finds himself Rome's biggest celebrity; a young provincial couple drawn into separate romantic encounters; and an American opera director endeavoring to put a singing mortician on stage. David Denby of the New Yorker says, "Woody Allen's new movie…is light and fast, with some of the sharpest dialogue and acting that he's put on the screen in years. The picture gently but surely moves back and forth between romantic comedy and satirical farce." "To Rome with Love" opens Friday, July 6 at the Michigan Theater. Special screenings downtown

The Ann Arbor Summer Festival presents Cinematic Titanic, the feature-length movie riffing show from the creator and original cast of Mystery Science Theater 3000. Enjoy the cast's riffing on "Rattlers" (6 p.m.) and the world premiere riff of "The Doll Squad" (9 p.m.) tonight (July 5) at the Michigan Theater.

"Yellow Submarine" features swirling animation, a mixture of pop-culture images, and modern artistic styles brought loosely together with some clever political commentary. When the Blue Meanies take over Pepperland—draining it of all its color and music, firing anti-music missiles, bonking people with green apples, and turning the inhabitants to stone by way of the pointed finger of a giant white glove—the only survivor escapes in the yellow submarine and goes to London to enlist the help of the Beatles (voiced by actors). The charming and innocent boys travel through strange worlds and meet bizarre characters, including the tagalong Nowhere Man. Richard Harrington of the Washington Post says, "this charming fable chronicling the Beatles' battles to save Pepperland from the Blue Meanies is one of the best testaments ever to the redeeming value of good music." "Yellow Submarine" plays Sunday, July 8 at 1:30 p.m. and Tuesday, July 10 at 7 p.m.

See you at the movies!