calendar of events
best bets:

See the 'Grateful Dead Movie' on the big screen or check out the library's new instrument collection

Posted on Sun, Jul 29, 2012 : 2:41 p.m.
ETC.
Get "An Olympic Experience" at Saline High School on Tuesday. 6:30 p.m. Activities include fun and games for ages 3-4, gymnastics and track and field for ages 5-plus, gold medals and photos on an awards stand, prizes and give-aways, a bouncy castle and more. Then, watch the women's gymnastics team finals on a giant movie screen (around 8 p.m.). Free. SHS is at 1300 Campus Parkway, Saline. 734-429-8030.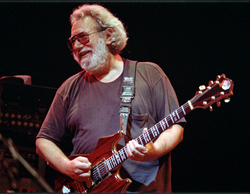 File photo | The Associated Press
MUSIC
Discover new talent at the Riverfolk Songwriting Contest at the Ark on Tuesday. 7 p.m. Finalists from the contest will perform in the Festival Finale Show on Aug. 4. The Ann Arbor area is chock full of hidden talent, see it here. $3. The Ark is at 316 S. Main St., Ann Arbor. 734-761-1800.
MUSIC
Check out the "Hands-On Workshop: Dr. Bob's SoundSchool And AADL's Musical Instrument Collection Launch" at the Ann Arbor District Library on Wednesday. There will be two sessions: 2-3:30 p.m. for grades K - 5 and 7-8:30 p.m. for grades 6 and up. Participants will experience the magic of electronic music as they explore the physics of sound generation and travel and the history of Moog music. Attendees will also have a chance to be the very first to try out AADL's upcoming circulating musical instrument collection. Free. The AADL is at 343 S. Fifth Ave., Ann Arbor. 734-327-4200.
MUSIC
The Gandy Dancer Courtyard Jazz Series continues Wednesdays through September 19. 6-9 p.m. This week, see Vincent York. The Gandy Dancer will offer its special Courtyard Menu, which features mid-priced sandwiches and appetizers. No cover. The Gandy Dancer is at 401 Depot St., Ann Arbor. 734-769-0592.
FILM
Deadheads, enjoy a "A Birthday Celebration: The Grateful Dead Movie Event" at Quality 16 and Rave movie theaters happens on Wednesday. 7:00 p.m. Recorded more than 35-years ago under the direction of Garcia and co-directed by Leon Gast, "The Grateful Dead Movie" was shot in October 1974 at the Winterland Arena in San Francisco. There will be other footage of the band, including a previously un-released live track. $11.50. Tickets are available at participating theater box offices and online at www.FathomEvents.com. Rave is at 4100 Carpenter Road, Pittsfield Township. 734-973-4823. Q16 is at 3686 Jackson Road, Ann Arbor. 734-623-7469.
MUSIC
See Mindy Smith on her Closer Tour with special guest Rosi Golan at the Ark on Wednesday. 8 p.m. Smith combines the best of country with a modern sensibility that encompasses new folk music and Americana songwriting. This Nashville-based artist is an Ark favorite, and she offers an entrancing, deeply reflective show every time. $20. The Ark is at 316 S. Main St., Ann Arbor. 734-761-1800.