concert preview
with video:

Local music community uniting in benefit concert for rock icon Scott Morgan's medical bills

Posted on Fri, Jun 15, 2012 : 7:46 a.m.
For nearly 50 years, Scott Morgan has sung his heart out in such seminal bands as The Rationals, Sonic's Rendezvous Band, and Powertrane.
Now, with Morgan's health in crisis due to liver failure, his fans and fellow musicians are giving back to the singer.
R.E.S.P.E.C.T., a benefit to help defray Morgan's mounting medical expenses, is scheduled for June 20 at the Necto. So far, more than 30 musicians—many of whom have performed with Morgan over the years—and an army of volunteers have stepped up to organize and operate the benefit, which is shaping up to be a sonic extravaganza featuring some bona-fide Michigan rock'n'roll; legends.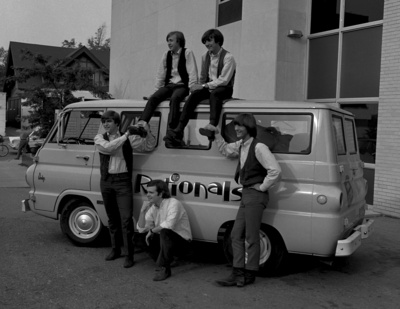 photo by Eck Stanger
"Scott is such a beloved part of Ann Arbor musical community and he has been for so many years," said
Wendy Smith
, one of the event's organizers. "When word started getting around about Scott's health, everyone wanted to get something together and this is the result of all those efforts."
Morgan, a lifelong Ann Arborite, first tasted success as a teenager during the 1960s, when The Rationals' version of Otis Redding's "Respect" became a regional hit and crested at No. 92 on the Billboard Hot 100, providing the template for Aretha Franklin's subsequent smash hit with the number.
Despite a handful of killer singles, The Rationals were never able to break out of the regional market and eventually the band split up.
But Morgan's international status as a garage-rock icon and blue-eyed soul singer was already cemented with soul and R&B record collectors, who fell in love with the band's singles and one LP on Crewe Records.
PREVIEW
R.E.S.P.E.C.T.
Who: George Bedard & the Kingpins, the Vibratrons, Brennan Andes of the Macpodz, Mark Farner and many more. For more information, see the event's Facebook page.
What: Host of regional musicians play to help defray Scott Morgan's medical expenses.
Where: Necto, 516 E. Liberty St.
When: Wednesday, June 20. Doors, 8 p.m.; music, 9 p.m.
How much: Basic admission is $10, although different levels of giving—up to $500—are available. Tickets are available at the Necto box office and website.
By the 1970s, Morgan was fronting Sonic's Rendezvous band with former MC5 guitarist Fred "Sonic" Smith. Despite releasing only one single, "City Slang," the band—which also featured Stooges drummer Scott Asheton—was a popular draw throughout southeast Michigan, particularly at the Second Chance, the venue that long occupied the Necto's current location.
Since then, Morgan has fronted numerous bands, including Scots Pirates, The Hydramatics and Powertrane, in addition to teaming with members of Swedish garage-rocker's, the Hellacopters for a handful of celebrated collaborations, including the more recent soul project The Solution.
But Morgan's recent health crisis has put all musical activities on hold. Soon after his initial diagnosis, he said, he quit drinking and was determined to find a non-surgical solution. However, as time has passed, Morgan said, it seems increasingly likely that he'll undergo a liver transplant.
"That's the way it's looking right now," he said. "But I'll let the doctors make that call."
As news of the benefit has spread, so has the list of musicians who want to perform, Smith said. So car, more than 30 artists are on tap to take the stage, in addition to an entire crew of technical workers, all of whom are donating their time and gear to the cause.
"It's going to be quite the extravaganza," she said.
The benefit will feature sets by The Vibratrons, led by singer Dan Mulholland and guitarist Brian Delaney; George Bedard and the Kingpins; as well as the ad hoc "Michigan All-Star Band," featuring Mark Farner, The Cult Heroes' Hiawatha Bailey and former Alice Cooper guitarist Dick Wagner, among many others.
A jam session hosted by The Macpodz's Brennan Andes will round out what should be a rockin' good evening.
Organizers will also pass a bucket for donations, and 10 donors have already lined up to match the first $500 that goes into the bucket.
That's the potential for $5,500 right off the bat.
Plus, Smith said, a silent auction will take place at 11 p.m., featuring a variety of artwork, music memorabilia and a private behind-the-scenes tour of the Rock and Roll Hall of Fame and Museum in Cleveland.
Morgan said he's moved by the outpouring of support and, even though he won't be able to perform, he said he'll be the most-attentive spectator during the benefit's musical segments.
"It's really nice to have the support of the community and to have my fellow musicians come together to do something like this," he said. "Everyone's been really supportive and it means the world to me."
"Plus, it's a pretty stellar lineup of local musician, so it should make for a really good show."
Donations can also be made directly to Morgan through his own website.